Rumor: In-store signage outs speed-bumped MacBook Pros, 16GB of RAM to come standard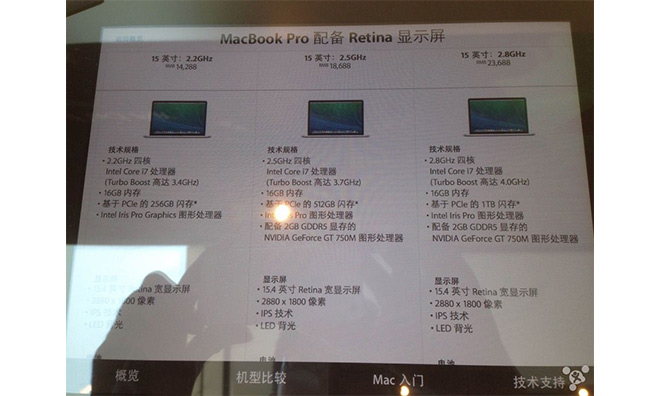 A photo out of China on Sunday supposedly shows iPad-based Apple Store signage detailing the anticipated 15-inch MacBook Pro with Retina display refresh, with an updated processor lineup and standard 16GB of RAM across the board.
According to a post on Chinese Apple forum Feng.com, the image originates from Apple's recently opened Paradise Walk outlet in Chongqing and purportedly reveals detailed specs for the next 15-inch Retina MacBook Pro, the most significant being a boost in standard memory to 16GB even for the base model.
As seen above, the reported iPad signage shows three configurations for Apple's top-of-the-line laptop, each getting faster Intel Core i7 chips, more RAM and consistent pricing. According to the chart, Apple will apply its usual 200MHz CPU speed bump compared to current models, while the low-end variant is to double its memory allotment from 8GB to 16GB of RAM.
The entry-level Retina MacBook Pro will supposedly feature a 2.2GHz Intel Core i7 CPU, 16GB of RAM, a 256GB SSD and Intel's integrated Iris Pro graphics. A mid-tier version gets a 2.5GHz Intel Core i7 processor and tacks on an Nvidia GeForce GT 750M discrete graphics card with 2GB of GDDR5 memory.
The top-end model appears to be a maxed-out custom configuration with 2.8GHz Intel Core i7 CPU, 16GB of memory, 1TB SSD and Intel Iris Pro and Nvidia GeForce GT 750M graphics.
If the signage is to be believed, Apple will keep Retina MacBook Pro prices steady, as the chart reflects current low-, mid- and high-tier pricing of 14,288 yuan, 18,688 yuan and 23,688 yuan, respectively.
The photo fails to show an estimated release date for the updated 15-inch MacBook Pro with Retina display lineup, though KGI analyst Ming-Chi Kuo in April predicted the laptop refresh to come late in the third quarter, possibly in August of September.