Apple promoting savings with back-to-school sales tax holidays in US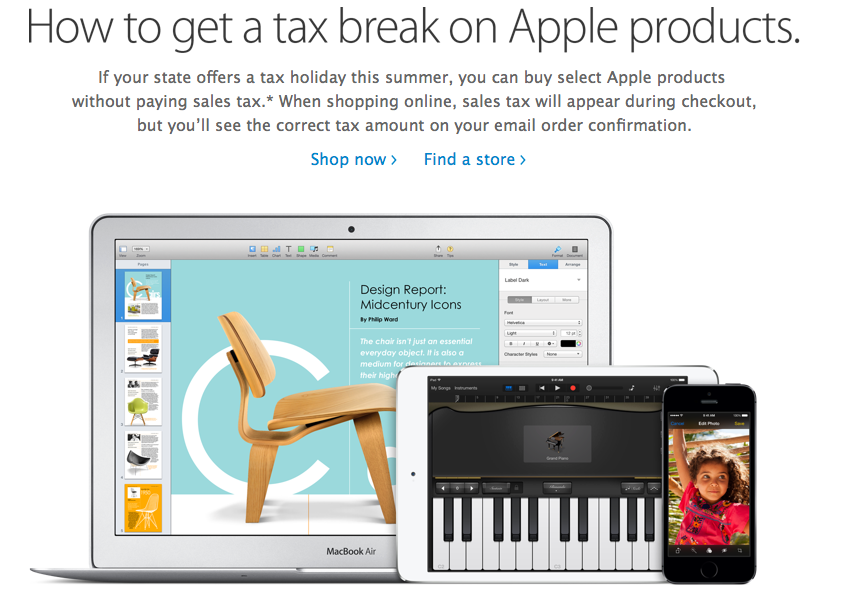 Apple on Tuesday launched an updated informational page, and corresponding email campaign, detailing how consumers in nine U.S. states can take advantage of back-to-school sales tax holidays for substantial savings on Macs and iOS devices next month.
During the promotional period — which varies on a state-by-state basis — Apple will automatically lower sales tax charges for eligible purchases made both in-store and online. Tax-free purchases are also eligible for Apple's own "Back to School" promotion, compounding consumers' return with the addition of an Apple Store gift card for Macs, iPhones, and iPads. Tax holidays occur in:
Alabama
Florida
Georgia
Louisiana
Massachusetts
Missouri
New Mexico
South Carolina
Tennessee
Eligible purchases include Macs, iPads, and most accessories, including mice and keyboards when purchased alongside a computer. iPhones, educational software, and AppleCare may be included as well, but consumers should review their state laws.
It should be noted that most states place a cap on the portion of each purchase that is exempt from sales tax — the limit is set at $750 in Alabama and Florida, $1,000 in Georgia and New Mexico, $1,500 in Tennessee, $2,500 in Massachusetts, and $3,500 in Missouri. There is no such cap in South Carolina.
The sales tax holiday period runs from Aug. 1 to Aug. 3 in every state but Georgia — where it ends on Aug. 2 — and Massachusetts, where it has yet to be set by the legislature for 2014. While consumers in North Carolina could take advantage of the sales tax holiday in past years, that law has now been repealed.