Facebook's Slingshot adds 'reactions-to-reactions' in latest update, bypasses reply to unlock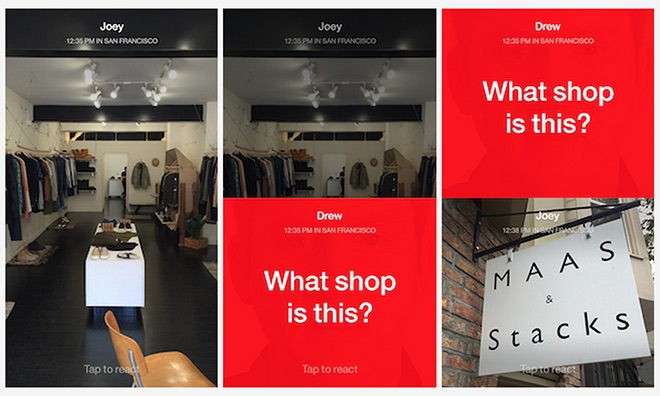 AppleInsider is supported by its audience and may earn commission as an Amazon Associate and affiliate partner on qualifying purchases. These affiliate partnerships do not influence our editorial content.
Facebook on Thursday pushed out an update to its Slingshot photo messaging service and app, allowing users to bypass the "reply-to-unlock" mechanic by replying to "reactions" with photos, video or text.
Slingshot version 1.1 looks to loosen restrictions on the "reply-to-unlock" mode of operation, which in many situations required users to respond to an unrelated post if they wanted to carry on a conversation.
With the latest version, users can now respond to a reaction with a photo, video or text.
For example, in the above Slingshot conversation taken from the service's official blog, Joey first sends a picture of a shop, which Drew unlocks by slinging back a photo. Once the photo is unlocked, Slingshot allows Joey to post a "reaction," which in this case was the question, "What shop is this?"
Prior to today's update, Drew's options for reply would be to send a new photo to be unlocked, or react to a different shot from Joey, if one existed. The method was cumbersome and made long back-and-forth conversations difficult.
In addition to the reactions-to-reactions feature, Slingshot now links with Facebook and Address Book contacts for friend discovery. Finally, a new My People tab organizes ongoing conversations in one place for quick access.