Apple says its App Store has resulted in a half-million new jobs in Europe alone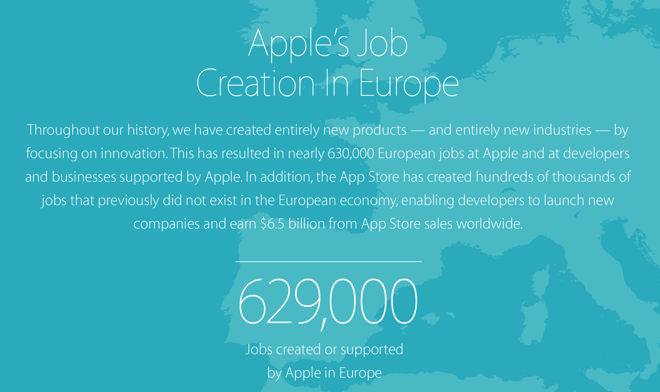 AppleInsider may earn an affiliate commission on purchases made through links on our site.
Apple on Wednesday began touting its success in Europe, claiming that it has created or supported 629,000 new jobs in the continent, with nearly 500,000 of those from the so-called "app economy."
The stats were revealed on a new section of the company's site entitled "Apple's Job Creation in Europe." The iPhone maker states that its App Store has enabled European developers to earn $6.5 billion from App Store sales, from a total of $20 billion in sales worldwide.
"This job growth for coders, developers, entrepreneurs, and others would not have existed without Apple's innovation and technology," the company said. "We also provide app developers with the tools and distribution they need to bring their best ideas to hundreds of millions of iOS customers worldwide through the incredible App Store."
Of the 629,000 new jobs Apple takes responsibility for, it says 497,000 of those are directly attributable to the App Store. Another 132,000 are jobs directly or indirectly supported by Apple, while 116,000 positions in Europe are said to have been created as a result of Apple's growth.
Finally, Apple itself employs 16,000 people directly in Europe, bringing the total sum to 629,000.
Looking forward, Apple projects that the overall "app economy" will deliver $16.5 billion in revenues to the European Union gross domestic product in 2014. This sum is reportedly growing at 12 percent per year.
Breaking down members of its paid developer program by country, Apple says it has created 61,100 positions in the U.K., 52,200 jobs in Germany, 30,000 jobs in France, 20,900 positions in Italy, and 18,300 new jobs in the Netherlands.

As for Apple's own employees, most — Â 5,000 — of them are located in the U.K. Another 4,000 are found in Ireland, where the company has its international headquarters in Cork.
Apple share similar U.S.-specific statistics last year, at the time claiming that 80,000 new American jobs were created by the iOS "app economy" in the year 2012. The amount Apple pays to its developers has been steadily growing, and the company revealed on Tuesday that the month of July was the best ever for the App Store, both in terms of revenue and number of customers.