Apple's iOS 8 beta 5 pulls business info from Maps into Phone app's Recents list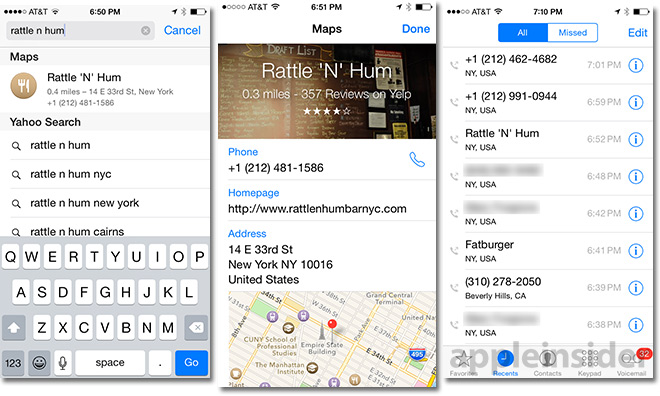 AppleInsider is supported by its audience and may earn commission as an Amazon Associate and affiliate partner on qualifying purchases. These affiliate partnerships do not influence our editorial content.
A new feature discovered in Apple's latest iOS 8 beta release automatically populates the Phone app's Recents list with information about points of interest when dialing out from Maps, applying correct name, addresses and even Yelp data to recent-dialed numbers.
Rolled out as part of the latest iOS 8 beta 5, and subsequently spotted by AppleInsider reader Mohammed, the contact data transfer feature appears to be limited to calls originating from the Maps app. Since Maps search results are available through iOS 8's Spotlight search, however, the function is accessible from anywhere in iOS.
As seen in the image set above, we were able to find a nearby restaurant called Rattle 'N' Hum in New York using Maps' Hybrid view, search text box and Spotlight in Safari. Clicking on the provided number automatically transported the bar's information to our iPhone's Recents list, including Yelp score, webpage and physical address with map.
The functionality is especially helpful for users who rely on their iPhone to discover nearby dining and entertainment, or travelers unfamiliar with the surrounding neighborhood.
For example, as with Rattle 'N' Hum, a user can find a place to eat in Maps, call to make reservations, then visit the Recents section to get directions when it's time to go. Further, the restaurant's information is now stored on-site, ready for redialing or saving to Contacts.
As noted above, the feature appears to be limited to Maps, as testing with Siri and Safari yielded negative results. Interestingly, while conducting a Spotlight search in Safari returned Maps results, extensibility stops short of pairing phone numbers — URL-based or discovered via iOS data detectors — with the mapping app's POI database.
Apple will launch iOS 8 this fall alongside the next-generation "iPhone 6," which is expected to come in 4.7-inch and 5.5-inch flavors. According to the most recent rumors, Apple's upcoming handset lineup will include a 2.0GHz A8 processor, 802.11ac Wi-Fi and possibly NFC functionality.