Samsung's 'rushed,' 'half-baked' announcements set Apple up for easy victory this fall, analyst says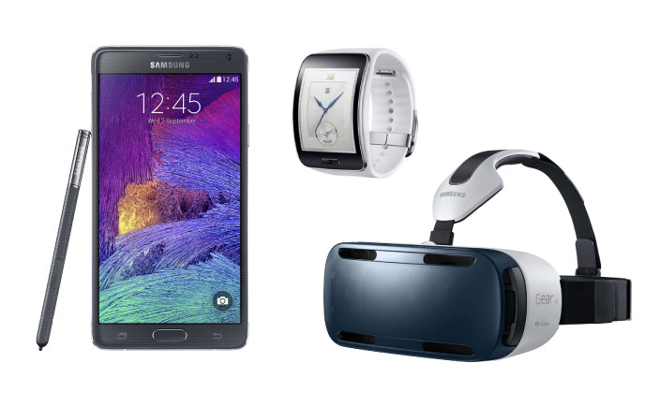 AppleInsider may earn an affiliate commission on purchases made through links on our site.
Samsung this week made a slew of announcements, most notably its next-generation big-screen Galaxy Note 4 smartphone, but none of the products were enough to impress analyst Brian White, who doesn't think the South Korean electronics maker is well positioned to compete with Apple's anticipated fall product lineup.
In a note to investors on Thursday, White, of Cantor Fitzgerald, used the words "underwhelming," "rushed," and "half-baked" to describe Samsung's announcements, which also included the Gear VR partnership with Oculus, a Gear S smartwatch, and the new Note Edge handset with a side-facing display. White said he believes Samsung's announcements were a subpar attempt at garnering buzz for its products before Apple holds its own presentation next Tuesday, Sept. 9.
"In our view, this strategy was ill-advised because we found the event 'half baked' with no details around the price points, launch dates a bit fuzzy, limited technical specifications, and 'gimmicky' features," White said in his note, a copy of which was provided to AppleInsider. "With the potential threat of this event now out of the way, we believe this just made Apple's 'Fab Fall' launch a lot easier because the company's #1 competitor does not appear well prepared to take on Apple's new iPhones this fall."
Apple heavily rumored to be planning to release two new iPhone models this year with two different screen sizes. In particular, the larger 5.5-inch model is expected to be Apple's answer to the so-called "phablet" trend, arguably led by the popular Galaxy Note lineup.
White believes Apple's 5.5-inch "iPhone 6" will eat into the Note franchise, which heads into the fall with the Galaxy Note 4 as its new flagship model. That handset will launch with a 5.7-inch 2,560-by-1,440-pixel Super AMOLED display as well as a new 16-megapixel camera system.
Apple could further take the wind out of Samsung's sails if the new jumbo-sized iPhone hits the market before the Note 4. Apple typically launches new iPhone models the Friday after their unveiling, which would make Sept. 19 a likely date this year, though there have been rumors that the company is facing production issues with the 5.5-inch model and it could debut slightly later.
White is one of the most bullish analysts on Wall Street regarding Apple, with a price target of $123. He has particularly high hopes for Apple's 5.5-inch "phablet" in China, where he believes the bigger model could help the company gain market share.
Shares of AAPL are up slightly Thursday after taking a tumble Wednesday following Samsung's announcements at the IFA trade show in Berlin. The company is now trading below $100 a share after finishing last week at an all-time high north of $102.