Apple's capacious iPhone 6 models to drive higher sustained ASPs, analyst says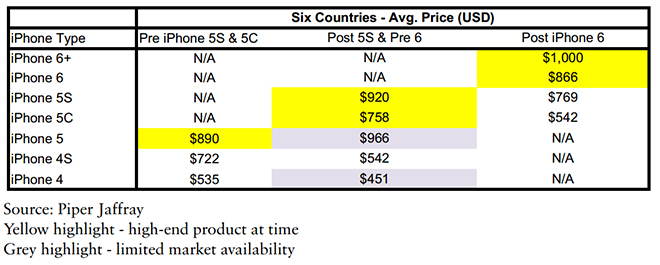 AppleInsider is supported by its audience and may earn commission as an Amazon Associate and affiliate partner on qualifying purchases. These affiliate partnerships do not influence our editorial content.
Based on unlocked iPhone price checks, Piper Jaffray analyst Gene Munster believes Apple's latest handsets will see higher sustained ASPs thanks to upgraded storage capacities and the new top-end iPhone 6 Plus model.
In a research note provided to AppleInsider, Munster says he suspects iPhone ASPs will again peak in first full quarter following launch, but points to "unique factors" that could contribute to greater and more sustained changes going into 2015.
First, the new 128GB iPhone 6 Plus "phablet" is to be offered for $749 off-contract price, a $100 increase from last year's top-end iPhone 5s model. Munster believes the new tier will pull up ASPs by $33, assuming two-thirds of Apple's iPhone sales come from high-end iPhone 6 units and half of those are from the iPhone 6 Plus.
Secondly, Apple's decision to replace the 32GB storage option with a 64GB tier incentivizes consumers to go with the more capacious option. The 4x jump from 16GB to 64GB for $100 is much more attractive than a 2x increase from 16GB to 32GB seen with the iPhone 5s.
Further, Munster says 16GB iPhone sales have been on the decline. According to survey data taken over the past three iPhone launch cycles, 35 percent of customers were looking to purchase a 16GB iPhone 5s, which compares to 44 percent for the iPhone 5 and 49 percent for the iPhone 4S.
"We believe the added incentive of 4x storage at the higher price tier vs. 2x could result in a continued shift toward higher capacity, higher ASP, and higher margin devices over the next few quarters."
As for international pricing, Munster notes that Apple kept low-, mid- and high-range rates nearly unchanged, with the exception of a one-percent jump in the mid-tier with the iPhone 5s. With the upcoming launch, Apple's high-end handsets will include the iPhone 6 and 6 Plus, while the iPhone 5s drops down to cover the middle at $99 on contract and the iPhone 5c goes free on contract.
The analyst culled unlocked handset pricing data from six countries, including U.S., the UK, France, Germany, Brazil and China, all major markets for Apple. Chinese data is based on reseller preorder pricing, but no information was found regarding iPhone 6 and 6 Plus cost in Brazil.
Munster remains a buyer of AAPL and rates the stock as overweight.