Samsung smartphone trade-in requests surge in wake of Apple's iPhone 6 announcements

AppleInsider is supported by its audience and may earn commission as an Amazon Associate and affiliate partner on qualifying purchases. These affiliate partnerships do not influence our editorial content.
The unveiling of Apple's iPhone 6 handsets has unsurprisingly fueled a flood of trade-in requests from previous-generation iPhone owners lured by the new devices' larger displays and bonus features. But they're not the only ones preparing to make the jump — many owners of smartphones from Apple's chief rival Samsung are also eager to upgrade their experience.
According to buyback service and AppleInsider partner Gazelle, trade-ins of Samsung devices were up threefold on a weekly basis immediately following Apple's Sept. 9 announcement, suggesting Apple's larger screen sizes may already be doing their part to court over Android switchers.
Samsung, of course, has offered jumbo-sized phones, including its Galaxy S and Galaxy Note series, for years, but 2014 marks the first time Apple will cater to the big smartphone trend.
Of course, previous-generation iPhone owners are also rapidly trading in their devices to buy Apple's latest and greatest. Following the reveal of the iPhone 6 and iPhone 6 Plus, the iPhone 5 was the most popular item traded in at Gazelle, representing 47 percent of all legacy Apple smartphones.
Coming in next was last year's iPhone 5s, which accounted for 34 percent of all trade-ins, while the three-year-old iPhone 4S was 13 percent.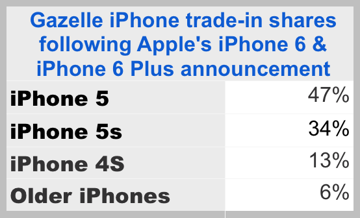 In comparison, a year ago, the iPhone 4S was the most-traded-in phone at 42 percent, while the iPhone 5 followed closely behind at 36 percent. The trends suggest that most users typically wait two years — Â also the length of the average wireless contract — before upgrading.
Overall, Gazelle saw its trade-ins increase 293 percent from the week prior thanks to Apple's iPhone 6 announcement, averaging 480 offers per minute. iPhone 5 trade-ins alone were up 346 percent, while iPhone 5s trade-ins grew 404 percent week over week.
Apple's iPhone 6 and iPhone 6 Plus become available for preorder tonight at 12:01 a.m. Pacific, 3:01 a.m. Eastern. Users can lock in their cash trade-in offers from Gazelle now, and won't have to ship their current iPhone until after the new iPhone 6 arrives on Sept. 19. AI's Trade-In Payout Guide also lists several alternatives to Gazelle.