Jony Ive confirms Apple Watch three years in the making as designer's media blitz continues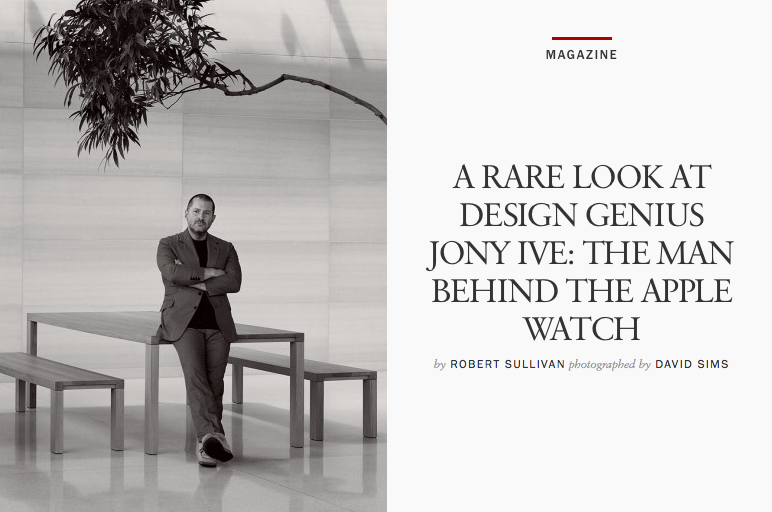 Apple design chief Jony Ive provided a rare glimpse into Apple's product development process on Wednesday as part of an even-rarer interview, revealing that Apple's new smart watch was in the works for some three years before its unveiling in Cupertino.
"It's strange when you've been working on something for three years..." Ive told Vogue columnist Robert Sullivan when discussing the Apple Watch. The interview appears in the magazine's October issue.
If accurate, it would mean that the Cupertino company began development of the Apple Watch approximately one year before even the earliest rumors of the product began to circulate.
While CEO Tim Cook has previously said that work on the Apple Watch began after the death of Apple cofounder Steve Jobs, it remained unclear exactly how long the device had been in progress. Jobs resigned as Apple's chief executive in August 2011, then died in October of that year.
Since Cook's ascension, his lieutenants — Â especially Ive — Â have increasingly found themselves in the spotlight as the company attempts to counter the widely-held belief that it would find survival difficult without Jobs. Ive has been even more visible during the launch of Apple Watch, which has seen Apple push into an entirely new industry — fashion.
Apple has ample industry expertise on board, in the form of Paul Deneve — Â the former Yves St Laurent CEO who now reports to Cook — Â and retail chief Angela Ahrendts, late of British label Burberry. But it seems that Ive, rather than Cook, Deneve, or Ahrendts, has been chosen to be the face of Apple in fashion.
Ive and fellow design superstar Marc Newson — Â formerly of Swiss watchmaker Ikepod, now part of Ive's team — Â personally introduced the Apple Watch to a number of fashion luminaries on Tuesday in Paris. Vogue editor Anna Wintour, Chanel creative chief Karl Lagerfeld, and supermodel Karlie Kloss were among those who scored rare face time with Ive and the chance to try on the Apple Watch at Parisian boutique Colette.
It remains to be seen whether this strategy will continue, but it appears — Â at least for the moment — that Ive is prepared to shed his famously behind-the-scenes persona and become Apple's standard bearer.