AAA says Apple's Siri causes potentially dangerous driver distractions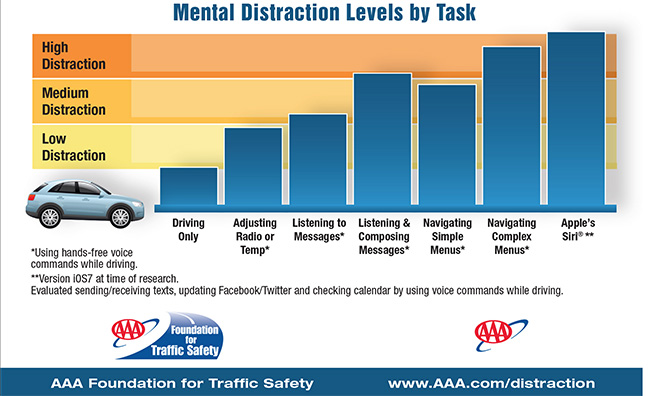 According to a new study by the AAA Foundation for Traffic Safety, hands- and eyes-free infotainment and smartphone control systems can be dangerously distracting to drivers. And Apple's iOS 7 version of Siri ranks among the worst.
Seeking to ascertain the level of cognitive distraction caused by hands-free systems employed by popular car manufacturers, the assessment ranked ease-of-use for various in-car voice recognition features. Ranked on a five-tier scale, ratings move from minimal distraction at category one to high levels of distraction at category five.
In addition to automakers, the foundation assessed smartphone control capabilities of Apple's Siri virtual assistant running in iOS 7.
"Technologies used in the car that rely on voice communications may have unintended consequences that adversely affect road safety," said AAA Foundation for Traffic Safety's president and CEO Peter Kissinger. "The level of distraction and the impact on safety can vary tremendously based on the task or the system the driver is using."
As seen in the chart above, driving alone accounts for low distraction rates, while using hands-free voice commands for increasingly complex tasks makes for higher distraction rates. While interacting with Siri causes a high level distraction, the results are perhaps unsurprising given the operations test subjects were asked to complete.
As mentioned in the chart's footnotes, as well as the study's findings (PDF link), Siri evaluation comprised sending/receiving texts, updating social media accounts and checking calendar appointments. Although smartphone function access offered by Siri and the iPhone is much more advanced than changing a radio station on an infotainment setup, the foundation applied the identical category rankings to both sets of data.
Researchers used the same metrics to measure a broader range of tasks including using social media, sending texts and updating calendars. The research uncovered that hands- and eyes-free use of Apple's Siri generated a relatively high category 4 level of mental distraction.
As part of the assessment, test subjects were asked to perform a series of nine cognitive tasks in a static environment to create a baseline against which results were measurement. Tests administered included single-task phone operation, car commands, listening to and composing messages and interacting with Siri's above-mentioned features, among others.
Following the baseline exam, subjects took to the road, performing the same operations while driving. Testing equipment quantified a range of feedback cues like heart rate, brain functions and peripheral vision detection and response.
As for OEM solutions, Toyota's Entune was the least distracting with a ranking of 1.7, while Mercedes' COMAND and Ford SYNC with MyFord Touch systems rated near the bottom at 3.1 and 3.0, respectively. Chevrolet's MyLink was the worst performer out of the automotive industry with a rating of 3.7, but managed to outperform the arguably different test set applied to Siri.
"It is clear that not all voice systems are created equal, and today's imperfect systems can lead to driver distraction," said AAA CEO Bob Darbelnet. "AAA is confident that it will be possible to make safer systems in the future."