Apple's patented flexible device display triggers data events through bending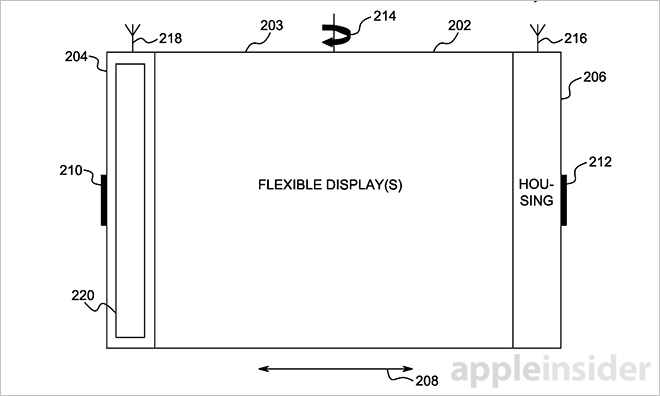 AppleInsider is supported by its audience and may earn commission as an Amazon Associate and affiliate partner on qualifying purchases. These affiliate partnerships do not influence our editorial content.
Apple on Tuesday was assigned a patent detailing an interactive flexible device display that uses built-in sensors to detect bends or panel movement, which triggers a server request for multimedia content.
As published by the U.S. Patent and Trademark Office, Apple's U.S Patent No. 8,855,727 for a "Mobile electronic device with an adaptively responsive flexible display" describes a unique interactive device panel capable of triggering various system tasks, specifically mass media content served up in the form of MMS messages.
While the document consistently refers to the portable computing device as a "digital periodical" or "advertising device," the patent's claims specifically point out methods in which the system is a mobile phone.
Only a generalized physical description is offered, but the invention notes the device can take on one or more flexible displays operably attached to hardware components like network adapters, sensors and more. Further, the displays can "roll up" into a specialized rectangular or cylindrical housing for easy carry. Lending to the device's advertising capabilities is an embodiment that allows attachment to a lamppost or other highly visible public structure.
In another embodiment, the device can sport a secondary LCD or OLED screen to be used when the larger flexible display is stowed.
As mentioned above, the mobile device is capable of requesting and displaying multimedia content from a static server. In some cases, a trigger event requests data from said server be pushed to the device over the air via MMS messaging.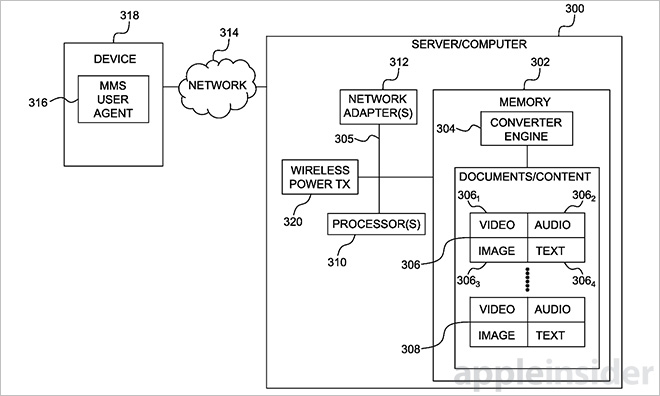 Along with scheduled triggers, users may also invoke a request by bending, folding or altering the shape of the flexible display. In cases where the display becomes folded or bent, incoming data can be resized or altered to fit the new shape.
Alternatively, an application running on a personal computer, such as a Web browser, may invoke a push over MMS through user interaction. In some embodiments, only specific content appropriate for MMS messaging is tagged for transmission, while other techniques send entire pages or full documents.
Content sent over the network is parsed into packets suitable for transmission over MMS by a converter engine. Once data is received by the mobile device, an MMS user agent reassembles the packets as per instructions provided by a special assembler message for proper display formatting.
The patent also describes GPS-based push triggers for localized advertisement, detection of wireless charging hubs for efficient power handling and detailed MMS messaging parameters.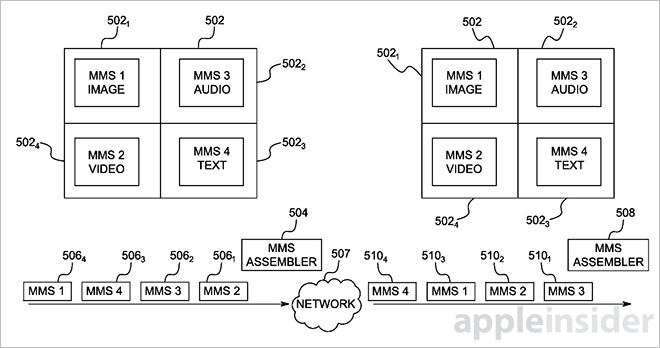 Apple's interactive flexible device display patent was first filed for in September 2013 and credits Harry Vartanian as its inventor. The patent dates back to 2011 and was most recently assigned to a small research and engineering firm called HJ Laboratories, which was cofounded by Vartanian and Jaron Rhodes in 2008. It is unclear whether Apple purchased the patent, is licensing its claims or attained the property through an unannounced acquisition.
Currently, the flexible display property is the only HJL-originating patent assigned to Apple, but the small firm owns numerous inventions for indoor GPS systems dubbed "inGPS." Apple previously showed interest in the sector with the purchase of indoor mapping company WiFiSLAM in 2013.
HJL is still listed as being an active company in Pennsylvania, but the Apple patent assignment could imply the Vartanian and Rhodes were "acquihired" earlier this year. We have reached out to Apple for confirmation and will update this story when a reply is received.