Chinese carriers notch 1M official iPhone 6 & 6 Plus preorders in 6 hours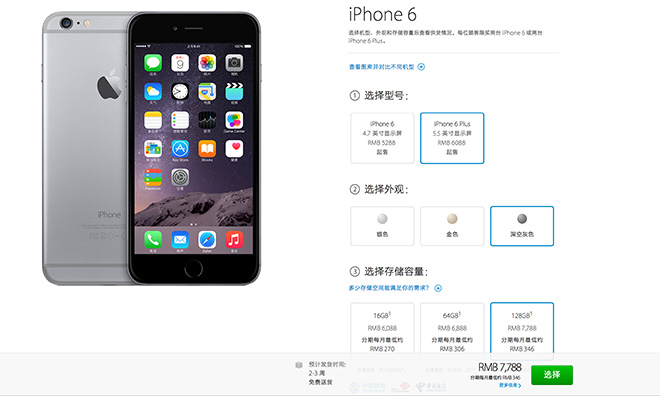 Apple's iPhone 6 and iPhone 6 Plus officially went up for preorder in China Friday morning and initial reports say the country's top three wireless carriers accepted one million orders in the first six hours of availability.
The preliminary numbers come from China's three biggest telecoms, China Mobile, China Telecom and China Unicom, reports Tencent News. It is unclear if the one million unit figure includes orders placed through the Chinese Online Apple Store, which also initiated preorders on Friday.
Along with the major players, more than 6,700 authorized resellers will have the new iPhones in stock when the handsets launch on Oct. 17, said a representative from China Telecom's Guangdong location.
Citing inside sources, the publication claims some 6.5 million iPhone 6 and iPhone 6 Plus models are bound for China Mobile, more than 50 percent of all supply entering the country on launch day. The world's largest cellular provider by subscribership uses a unique TD-LTE network that requires custom communications hardware. For the iPhone 6 and 6 Plus, Apple has demarcated handsets supporting China Mobile's flavor of LTE as model numbers A1589 and A1593, respectively.
Prior to today's authorized preorder launch, Chinese telcos and third-party resellers were taking reservations for the new iPhones. As noted by Fortune, website JingDong registered more than 9 million reservations as of 8:30 p.m. local China time. At the time of this writing, customer "appointments" showed a split of 4,626,516 for the iPhone 6 and 4,782,051 iPhone 6 Plus.
With first weekend sales hitting 10 million units last month, the iPhone 6 is already off to a record-breaking start, but that number is expected to swell as the company completes its fastest ever rollout to a total of 115 countries by the end of 2014.
Apple will begin in-store iPhone 6 sales in China one week from today on Oct. 17.