First-week OS X Yosemite adoption rate outpaces Mavericks, now at 12.8%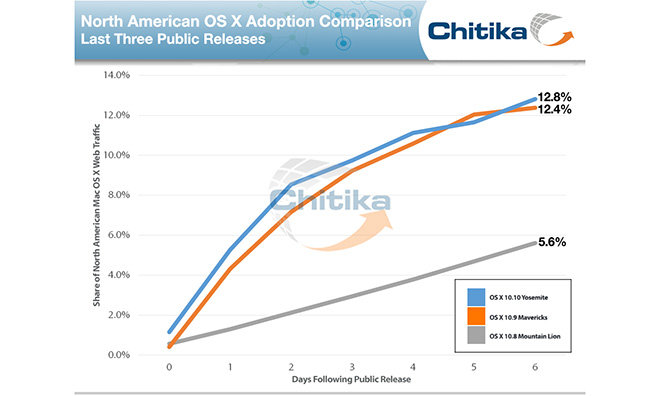 According to recently published statistics, Apple's latest OS X Yosemite release is seeing slightly better take up rates than last year's OS X Mavericks launch, with current North American distribution pegged at 12.8 percent as of Wednesday.
The results, provided by the research arm of ad network Chitika, found OS X Yosemite accounted for more than one percent of all North American Web traffic generated by OS X users on launch day. This is more than double first-day adoption rates set by Apple's prior OS X Mavericks and OS X Mountain Lion releases.
Chitika points out that the slightly higher uptake could be a result of higher Mac sales over the past year. Last week, Apple announced it sold 5.5 million Macs over the three months ending in September, an all-time record. The performance smashed Apple's previous record set in the fourth fiscal quarter of 2011, when the company sold 4.9 million Mac computers.
As for the disparity in Web traffic compared to OS X Mountain Lion, the research firm notes the two-year-old operating system was a $19.99 upgrade from OS X Lion, potentially prompting slower initial uptake. Since Mavericks, Apple has made OS X updates free to download from the Mac App Store.
Apple released OS X Yosemite on Oct. 16 with a new "flat" aesthetic and support for so-called "Continuity" features that integrate tightly with iOS 8. For example, users can now place and receive phone calls, send and receive SMS texts and create instant hotspots with a connected iPhone.