Rumor: Office for Mac to get Retina redesign, feature parity with Windows in Q1 2015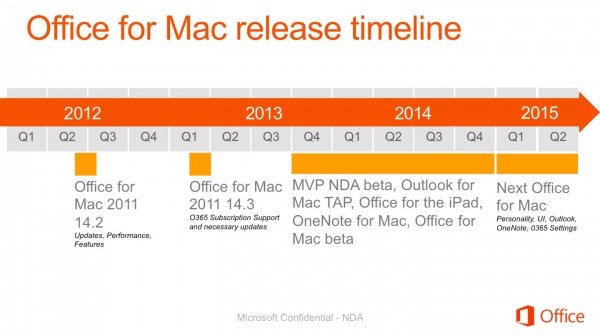 AppleInsider may earn an affiliate commission on purchases made through links on our site.
Microsoft is set to release an all-new version of Office for Mac in the first quarter of 2015, documents revealed on Tuesday suggest, modernizing the Mac version of the popular software suite and bringing it to feature parity with its Windows counterpart.
The documents, supposedly leaked from an internal Microsoft presentation, suggest that the company is planning redesign Office for Mac's user experience to more closely mirror the look-and-feel of the Windows variant. It will also gain many of the features and capabilities of the Windows suite, including enhanced integration with Office 365, SkyDrive, and SharePoint.
Excel will finally support functions that have previously been Windows-only, allowing for easier sharing of files between platforms. Powerpoint will add a presenter view, while Word will add the ability to expand and collapse individual paragraphs alongside enhanced change tracking.
Office for Mac has not received a major update since 2010, a situation that has caused concern among business users in recent years. Apple has completely revamped its competing iWork suite in the interim in what some have pegged as an effort to reduce Office's role as a killer app for Macs in the workplace.
The company has made one major Apple-related move recently, releasing an iPad-optimized version of Office. Like the eventual desktop update, the tablet move was widely rumored for years before it eventually materialized.