Microsoft Office for iOS overhauled to allow free creating & editing of documents without subscription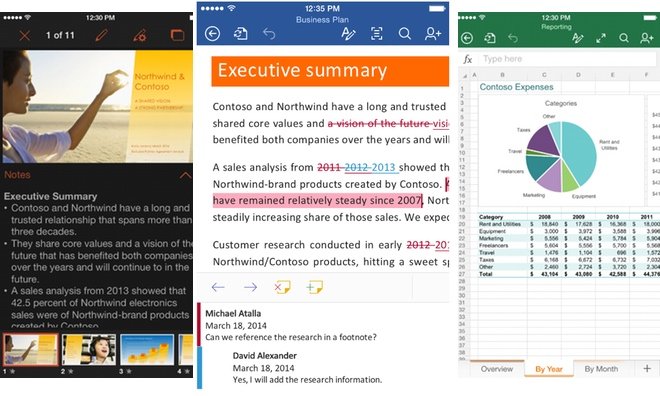 Dedicated versions of Word, Excel and PowerPoint, comprising the Microsoft Office suite, are now available for iPhone, based on a unified codebase with their iPad counterparts, and also offering both iPhone and iPad users the ability to create and edit documents for free without an Office 365 subscription.
The new Word, Excel and PowerPoint are now available as free downloads, replacing the now-defunct Office Mobile for iPhone app. The new unified applications are optimized for the iPhone, with the same set of features as the iPad versions, but tweaked user interfaces to better accommodate the iPhone's smaller display.
In addition to more powerful editing capabilities, Microsoft has also relaxed its stance on the Office 365 subscription requirement for creating and editing documents. Users can now edit and create content for free, without an Office 365 account.
Of course, not all editing functions are available without an Office 365 subscription. Upgrading gives users more advanced functions, including more change tracking features, unlimited OneDrive storage, unlimited paragraph styles, improved chart, table and picture formatting tools, advanced collaboration capabilities, and more.
The updated Office for iOS suite also gives Office 365 subscribers the ability to open, edit and save their documents from popular cloud storage service Dropbox. The basic Office 365 Home subscription costs $9.99 per month.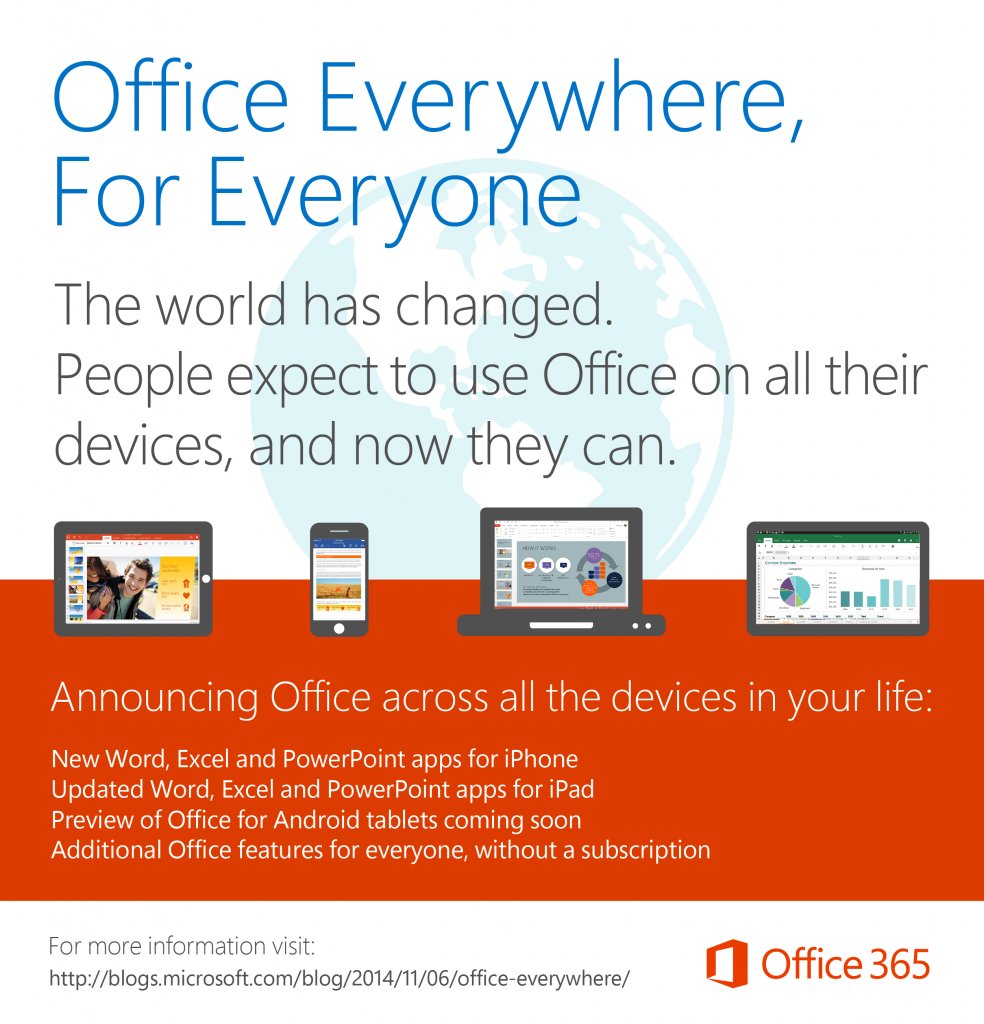 Previously, users who downloaded the official Office apps for iOS could view existing documents in a "read only" mode. Creating new files or editing existing ones required an Office 365 subscription.
The changes are part of a new "Office for everyone" initiative from Microsoft, aiming to offer the same unified experience across devices, including iOS, Windows, and even Google's Android.
The launch of the revamped Microsoft Office for iPhone comes on the heels of the debut of a new version of Outlook for Mac. The Redmond, Wash., company has also revealed that an update for its Office suite for Mac is coming next year, with a beta trial in the first half of the year preceding an official launch in the latter half of 2015.
Recent leaks suggest the next version of Office for Mac will receive a redesign intended to take advantage of high-resolution Retina displays on Apple hardware. The suite is also rumored to receive feature parity with its Windows counterparts, including easier sharing of files between platforms.