Philips Hue iOS 8 Notification Center widget for connected lightbulbs now available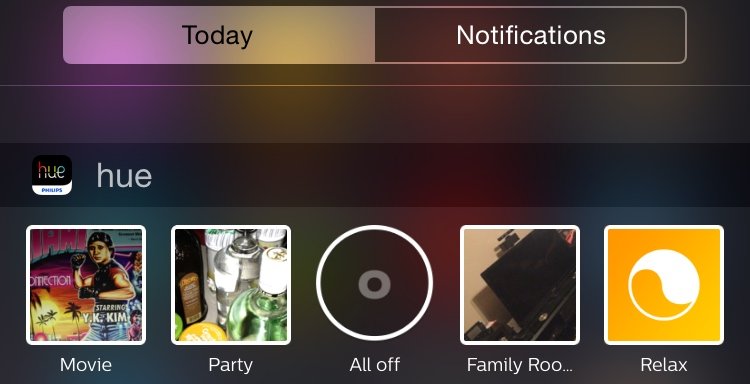 Users of the popular Philips Hue connected LED lightbulbs can now quickly control their lighting and enable "scenes" with the new easy-access Hue widget, now available for iOS 8.
The Notification Center widget for Philips Hue can be found in the latest update to the official Hue application, available for free on the iOS App Store. Upon updating, users can access the Notification Center by swiping down from the top of the screen, then choosing the "Edit" button at the bottom of the "Today" view to customize their widget layout.
Upon adding the Hue widget, users are prompted with a direct link to open the Hue app and customize their widget. A new dedicated section of the application's settings allows users to select up to five quick-access scenes for their connected bulbs.
Users can select among their own custom Hue scenes, or pre-made options from Philips. In addition to the name for the scene, the widget also displays any custom images associated with it.
In addition to the new iOS 8 widget, Philips Hue version 1.7.0 also includes improved support for iPhone 6 and iPhone 6 Plus devices. The update also fixes an issue with geofencing, and improves overall stability.
Just last week, Philips announced that its Hue bulbs are now supported by over 200 third-party apps in addition to its own official iOS application. Hue bulbs initially launched exclusively at Apple retail stores, but are now available for purchase elsewhere, such as Amazon.