Court unseals documents in GT Advanced case, Apple says it 'bent over backwards' to help sapphire supplier
Though bankrupt sapphire maker GT Advanced Technologies has accused Apple of crafting a "classic bait-and-switch" deal, newly unsealed court documents reveal Apple's side of the story, with the iPhone maker claiming it did everything it could to help the struggling supplier.
A New Hampshire court on Friday published hundreds of pages of documents from GTAT's bankruptcy filing, copies of which were obtained by AppleInsider. The materials were previously kept out of the public eye to protect confidentiality agreements between Apple and GT Advanced, but a judge ultimately decided that the information should be made public.
"Far from the villain in these chapter 11 cases, Apple is the largest victim of (GT Advanced's) failure to perform under the agreements it negotiated" - Apple court filing
In the filings, Apple's perspective on the GTAT collapse is revealed. To date, Apple has largely remained silent while GTAT officials have accused the iPhone maker of essentially being a bully. Apple, unsurprisingly, sees the issue differently.
"Apple has bent over backwards to work with the Debtors, including making payments to the company notwithstanding the company's failure to meet performance milestones, in the hope of obtaining usable, economically viable sapphire from the Debtors," Apple wrote. "Apple continued to fund the Debtors' operations at the Mesa facility by making payments under the Prepayment Agreement even though the Debtors failed to satisfy the original payment milestones."
Specifically, GTAT was unable to create sapphire at the 262-kilogram boule size that it had originally agreed to produce. And even on that front, Apple says it was willing to negotiate and accept sapphire produced at a smaller size.
Right up until GTAT's surprise bankruptcy filing last month, Apple says it continued to attempt to work with the supplier, offering what it portrayed as "significant concessions." In an effort to assist GTAT, Apple says it was willing to pay a large portion of the remaining $139 million balance in its prepayment agreement, and it also offered to allow GTAT to sell additional sapphire furnaces to third parties.
"To date, Apple has paid the Debtors $439 million and additionally spent in excess of $700 million in connection with the transaction despite receiving from the Debtors sapphire that was only a small fraction of the Debtors' original commitment," Apple said. "Far from the villain in these chapter 11 cases, Apple is the largest victim of the Debtors' failure to perform under the agreements it negotiated at arms' length and with advice of counsel."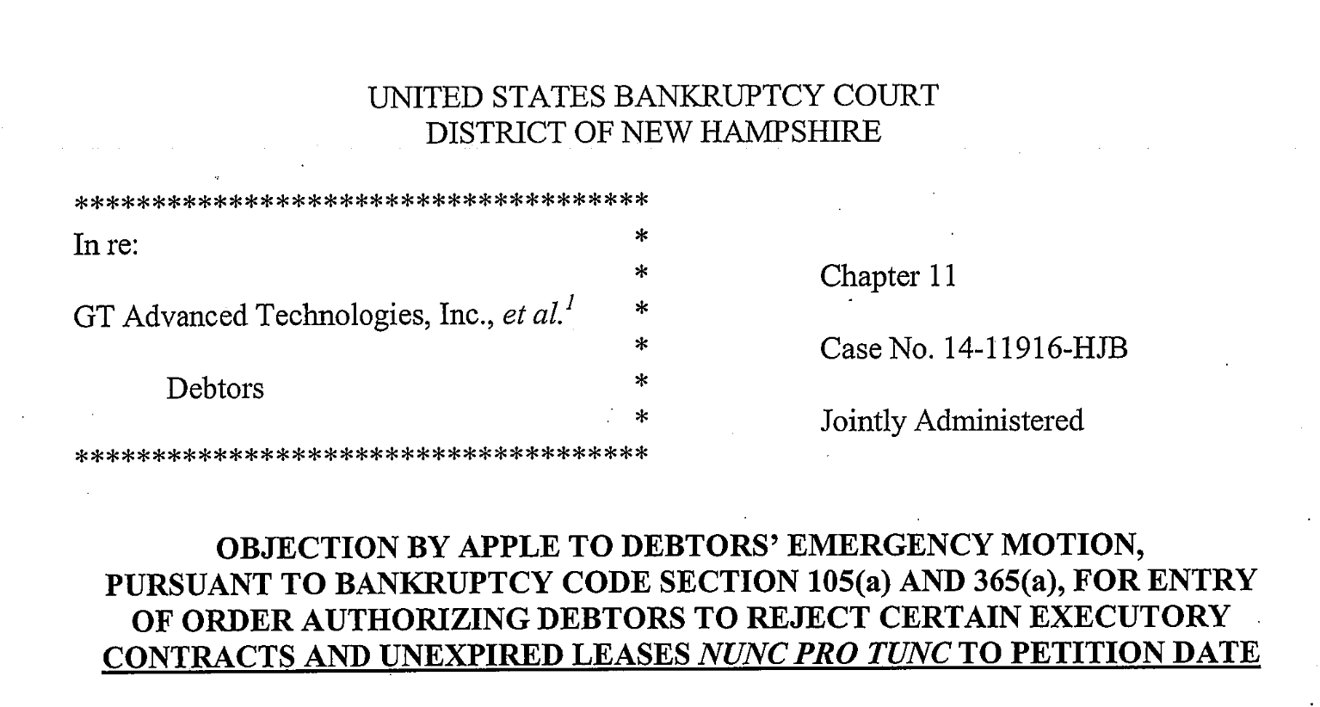 Despite all of the trouble with GT Advanced, Apple has said it is willing to work with the company on a mutually-beneficial agreement. Apple hopes that doing so will not only save jobs at the Mesa, Ariz., facility it purchased for GTAT, but that it will also "bring more sapphire to Apple's customers."
GTAT has signaled that it intends to exit the sapphire production business after its deal with Apple, and the iPhone maker has said it is willing to consider a transfer of the operations at the Mesa facility to another party. But Apple will only consider that option after a 90-day review period, when it intends to "validate the viability of the Mesa facility to produce sapphire for Apple products."
Apple said it plans to see if the Mesa, Ariz., facility it built is still viable for producing sapphire with a different supplier.
Apple's side of the story was disclosed in a letter to the Hon. Henry J. Boroff, U.S. bankruptcy judge, dated Oct. 14. Kept under seal since then, it was made public and obtained by AppleInsider on Friday.
In its own filings made with the court, GT Advanced says its arrangement with Apple was a "classic bait-and-switch" deal that favored the Cupertino, Calif., company. GTAT has said that it assumed all of the risk, while Apple took on none, with an unfairly one-sided contract.
Though the sides disagree about how their arrangement came to a bitter end, they have settled their disputes out of court with a repayment plan that will see GT Advanced return $439 million to Apple over four years. The terms of the agreement must be approved by the court as GTAT puts together its plans to emerge from bankruptcy.
Apple currently uses scratch-resistant sapphire crystal to protect the fingerprint sensor found within the Touch ID home button on its iPhone and iPad lineups. Sapphire also covers and protects the rear iSight camera on the company's iPhones, and will be a key component in two out of three Apple Watch models set to launch in early 2015.
In a rare public comment on the issue, Apple said last month that the sapphire process it hoped to create with GTAT was "ambitious," but that it is "not ready for production." The company has also said it is focused on working with the city of Mesa and Maricopa County to help employees affected by the bankruptcy find work.
Though GTAT will be exiting the sapphire production business, officials at the company hope they will be able to emerge from bankruptcy and refocus the business as an "equipment supplier" that would manufacture and develop "sapphire growth systems and processes."