Apple patent reveals method of attaching sapphire cover glass to iPhone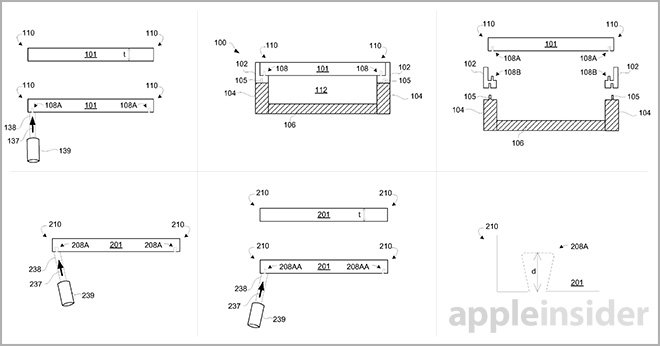 AppleInsider is supported by its audience and may earn commission as an Amazon Associate and affiliate partner on qualifying purchases. These affiliate partnerships do not influence our editorial content.
While rumors that Apple would incorporate sapphire into its latest iPhone 6 flagship handset failed to materialize, the company is continuing work on such a solution, according to a patent application uncovered on Thursday.
As detailed in Apple's patent filing for a "Ceramic cover for electronic device housing," published by the U.S. Patent and Trademark Office, the Cupertino tech giant is sinking assets into a sapphire display cover for its flagship smartphone line.
The invention mentions use of either sapphire or zirconia, both in crystalline form to achieve suitable transparency levels, though Apple is more likely to use sapphire considering it already bet on the material with a failed $578 million investment in GT Advanced.
Unlike past Apple inventions dealing with sapphire, which usually deal with material production, the ceramic cover housing patent describes in detail the method of fitting the part onto a handset. Specifically, instead of using adhesives that add extra thickness to the overall build, Apple proposes an attachment member, much like mortise and tenon joints.

In one embodiment, a laser ablation technique is used to carve out recesses in a sapphire sheet specified at between 0.3 millimeters and 1.0 millimeter in thickness. A jet of fluid helps to cool the material and carry away ablated ceramic that might resettle into a freshly cut recess.
Attaching the sapphire to a device housing involves Apple's usual shock-resistant thermoplastic peripheral side members, the thin black buffer zone seen on all iPhone and iPad models. Certain embodiments call for the peripheral material to support the housing, a design seen with the iPhone 6, while others look to cover areas that would otherwise remain exposed, much like the iPhone 4 and 4S.
Dovetail recesses are ablated into the sapphire cover, while corresponding angled tenons are integrated with the peripheral side member. When joined, or in some cases molded together, the components create a mechanical interlock to provide substantially gap-free construction.

Apple also provides for the peripheral member to be made of a ceramic-strengthened composite, possibly using ceramic fibers or particles mixed with polymers. These peripheral bodies may be disposed in on or two layers, as seen in the illustration above.
The patent goes into further detail regarding alternative processes for achieving largely the same design, as well as molding techniques, secondary designs and exemplary implementations.
Apple's sapphire iPhone cover patent application was first filed for in May 2013 and credits Kelvin Kwong as its inventor.