App Store download buttons change from 'Free' to 'Get' as in-app purchases dominate revenue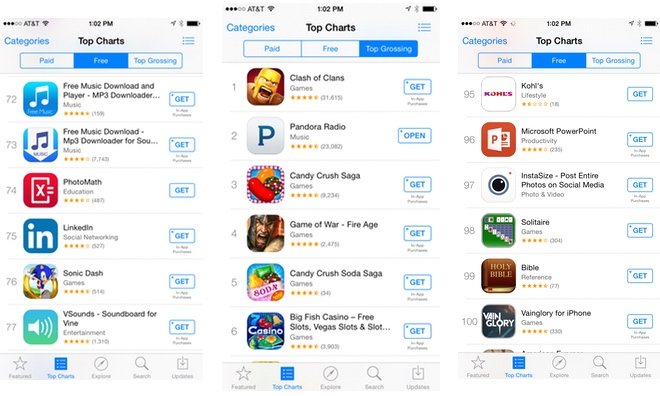 With many "free" applications carrying hidden costs in the form of in-app purchases, Apple has stopped labeling free-to-download iOS apps as "Free" on the App Store, instead requiring users to tap a button that reads "Get" in order to install the software.
The small change to the App Store was instituted Wednesday in an apparent acknowledgement that many so-called "free" iOS applications are not.
For example, as of Tuesday afternoon, the 38 "top grossing" applications listed on the App Store are all free downloads with in-app purchases. The first paid app on the list is No. 39, Minecraft - Pocket Edition, which costs $6.99 to download.
Most of the top grossing apps for iPhone are free-to-play games, which users can download for free but encourage — or sometimes require — in-app purchases to advance.
So-called "freemium" titles have been a source of controversy, as they can be downloaded by children who can rack up charges on their parents' App Store account. That prompted Apple to add a notice in 2013 highlighting when a free application includes in-app purchases.