Xiaomi reported earnings of only $56 million in 2013, one-tenth what WSJ reported and 1/150 Apple's Chinese earnings

AppleInsider may earn an affiliate commission on purchases made through links on our site.
In November, the Wall Street Journal reported that Chinese smartphone maker Xiaomi had earned $556 million based on "internal documents." Reuters is now reporting that the company actually earned an order of magnitude less, based on the firm's public filings.
The reports of my profitability have been greatly exaggerated
Reuters reported today that, according to Chinese securities filings by Xiaomi associated with the firm's investment in appliance maker Midea Group, the high volume smartphone maker reported earning a profit of 347.48 million Chinese yuan ($56.15 million U.S.) on revenues of 26.58 billion yuan ($4.3 billion).
That's one-tenth the earnings and profits that were reported last month, based on "a confidential document viewed by The Wall Street Journal" that its reporters said banks were being shown by the company "in its recent pitch to raise $1 billion in loans for overseas expansion or acquisition."
After reporting that Xiaomi had earned "3.46 billion yuan ($566 million)" on revenues of "27 billion yuan," the Wall Street Journal concluded that it "shows that Xiaomi's net profit nearly doubled last year, making it a lucrative business in an industry where most players selling cheap handsets struggle to break even."
The Wall Street Journal noted that "a Xiaomi spokeswoman declined to comment" on the initially reported earnings. The paper marveled at how Xiaomi could be making so much money on smartphones that start around $114, with the company's Mi4 flagship priced at just $327.
"A possible explanation for Xiaomi's ability to squeeze out so much profit while selling affordable phones is its inexpensive but efficient marketing tactics," the Wall Street Journal reporters Prudence Ho, Lorraine Luk and Juro Osawa collectively speculated.
Panic on false rumors
The Wall Street Journal had made it clear that even with greatly inflated profits and revenues, Xiaomi still represented a sliver of the annual revenues and profits of Apple and Samsung (as pictured in its graphic below).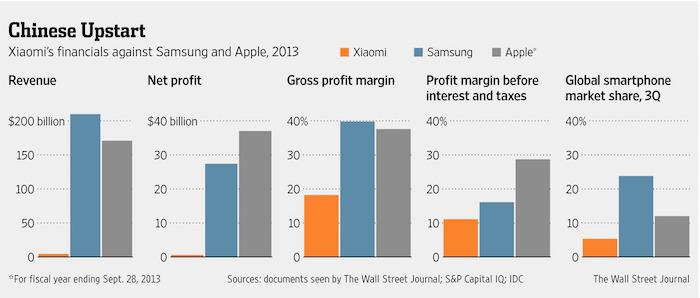 However, the idea that the Chinese discounter could be experiencing serious growth in profits while selling low end devices created a credible hope that Xiaomi could become a serious threat to Apple by expanding outside of China.
Based on the inflated figures reported by the Wall Street Journal clickblog Business Insider initially published an entry titled, "Xiaomi Is Creating An Uncertain New World That Apple Must Learn To Live In," which gravely warned that "the news that Chinese smartphone manufacturer Xiaomi makes a healthy profit could horrify executives at both Samsung and Apple."
Apple earned 150x as much as Xiaomi in China
The reality, however, is that years after starting to ship relatively large volumes of smartphones in China, Xiaomi is still not very profitable at all. Apple reported revenues within Greater China of $25.4 billion in fiscal 2013, over six times as much as Xiaomi actually reported earning in China, and operating income of $8.5 billion, over 150 times as much as Xiaomi actually earned in 2013. The reality, however, is that years after starting to ship relatively large volumes of smartphones in China, Xiaomi is still not very profitable at all
While Apple's profit margins in China were about 33 percent, Xiaomi earned a profit margin of less than 2 percent. That calls into serious question how sustainable Xiaomi's flash sales of extremely low cost phones can possibly be in China, let alone how it could export the same business model to other countries.
Additionally, Xiaomi's business model of unabashedly copying other makers has run the company into a sales ban in India based on patent infringement of Ericsson intellectual property, a market the company strategically targeted for expansion.