Apple's latest Mac Pro continues to cause problems for professional users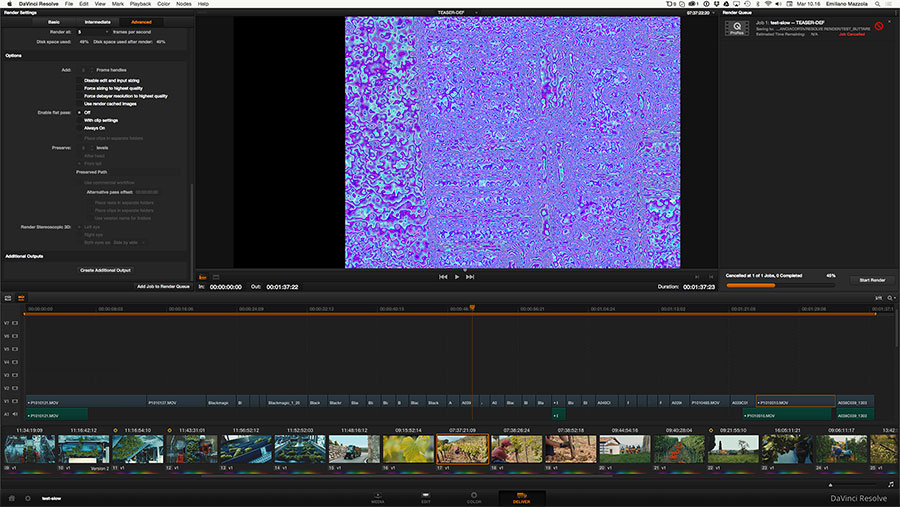 AppleInsider is supported by its audience and may earn commission as an Amazon Associate and affiliate partner on qualifying purchases. These affiliate partnerships do not influence our editorial content.
One year after its release, Apple's radically redesigned Mac Pro remains a source of frustration for some video-focused professionals whose workflows are being interrupted by rendering glitches apparently caused by problems with the unit's ATI graphics system.
An AppleInsider reader spotlighted the problem this week, but the issues — Â which center primarily around OpenCL-driven color corrector DaVinci Resolve — Â first began to appear in May of this year, manifesting as application lockups and visual artifacts on exported video. At the time, Apple's OS X Mavericks 10.9.3 update was pegged as the cause, with affected users urged to wait for a new update or downgrade to OS X 10.9.2.
Problems have continued, however, even after the release of OS X Yosemite.
"I and others have reported this to Apple, yet they are quiet on the issue," the AppleInsider reader who identified themselves as "OpenCL LSD" wrote. "I first reported it to Apple in late September. Since then they requested Applecare replace the graphics cards three different times which did nothing to fix the issue."
While the cause remains a mystery, a number of threads on both Apple's own support forums and those owned by DaVinci creators Blackmagic Design point to the device drivers supplied for the Mac Pro's ATI FirePro D700 graphics cards.
Multiple users have reported that rebooting their Mac Pro into Windows using Bootcamp resolved the problem, but that fix is obviously suboptimal for their workflow.
"Yes, I confirm that installing Windows 8.1 on my MAC PRO and running Resolve 10.1.5 solves the render issues," Blackmagic user Edo Brizio wrote. "Resolve sees the 2 D700 as 2 Radeon HD 7900."
Other users believe that thermal problems could be to blame, with some resorting to software tricks that force the Mac Pro's fans into high gear. Others have gone as far as to construct elaborate cooling apparatuses around their towers, both of which appear to have helped alleviate the issues.
Similar issues have persisted since May of this year, and continued following the release of OS X Yosemite.
"Seems heating problems ... we made a "box" with two fans (one under the mac to flow and one over to aspirate heated air) and ... miracle, most of our problems are solved," according to Apple forum poster Alex Sylicone.
A recent response from Blackmagic employee Peter Chamberlain seemed to bolster the case for a driver or firmware problem, after he revealed that some customers reported upgrading to the latest release of OS X Yosemite helped.
"There are a number of people looking into these reports. I'm hopeful of an update from those engineering teams shortly. As mentioned above we don't see this in our lab but I have seen some of these at a customers facility," Chamberlain said in a post. "In the meantime, I have reports that the latest Yosemite update helped with one of the problems so be sure to you are up to date with that."
For its part, Apple appears to have been treating the problem reports as possible hardware concerns, with numerous users reporting that the company readily replaced GPUs and logic boards in affected units. One user reported receiving three such replacements, with Apple technical support acknowledging a possible software problem after the third incident.
"I have repeatedly reached out to Applecare on the matter and all they say is engineering is looking into it," one affected user told AppleInsider. "The pro user community in Hollywood has been seriously letdown."
Though only a few dozen complaints have surfaced in the wild, this marks the latest in a string of incidents — Â notably including the disastrous rollout of Final Cut Pro X — Â that has seen much of the professional video community lose faith in Apple and allowed competitors like Adobe to regain lost ground.