Review: iOgrapher iPhone and iPad camera platform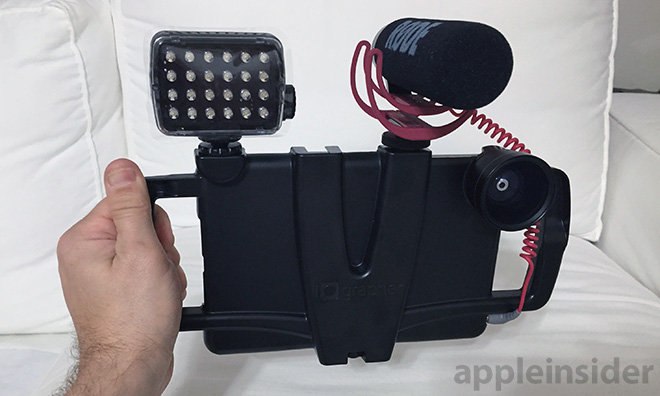 Made for iOS devices, iOgrapher is a highly adaptable camera platform that can be equipped with a variety of aftermarket lenses, microphones and other equipment to turn Apple's mobile product range into a portable movie making studio.
Fitted with premium optics and backed by state-of-the-art sensors, bespoke image processing technology and a vast app store, Apple's iOS devices are the most flexible portable camera systems on the market. Most attention is given to iPhones — we've seen car commercials shot on Apple's handset — as the devices are usually one generation ahead of flagship iPad models when it comes to camera capabilities, but the tablet range is quickly catching up.
Whether you're an iPhone or iPad user, iOgrapher looks to serve both communities with its light and flexible platform capable of accepting aftermarket lenses, microphones, lamps and more. Where other camera mounts require a case or magnetic attachments for lenses, iOgrapher is a simple molded plastic case with handles and threaded brass to receive 37mm lenses.
We tested the device in both form factors, using the iPhone 5 and an iPad mini 2. Both models employ a relatively flat, low profile polycarbonate molded case with handles and have threaded brass inserts for tripod mounting. Each accepts 37mm lenses, but the smaller iPhone version can only support two coldshoe mounts, compared to the iPad mini's three.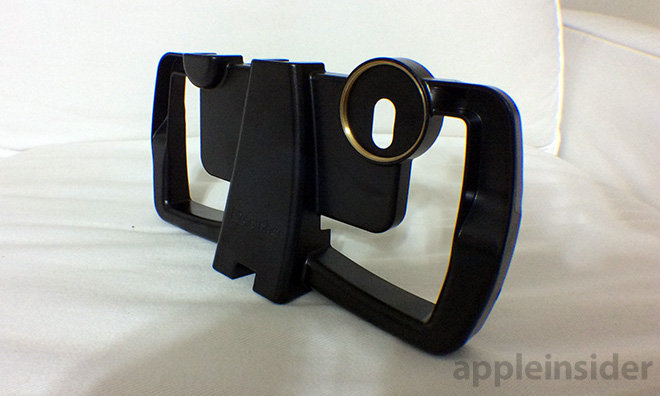 During testing, we attached a RØDE shotgun microphone and a Manfrotto 24 LED lamp to the coldshoe mounts. When taking photographs, we found wide-angle and macro lenses yielded the best results. When filming, the wide-angle or fisheye can provide good results. The microphone and light were most useful during video work.
The two handles are good to grip and give the video some stability, but they work especially well with our favored video recording apps. We've found we get good results using Hyperlapse, exporting at 1x.
The iOgrapher isn't pretty. But it's light, functional, and easy to work with. Providing two cold shoes is good. On the iPad mini model, even though three coldshoe mounts are present, you may only be able to use two based on the width of the accessory you connect. The lamp and the microphone were both wide enough to prevent using all three mounts at the same time.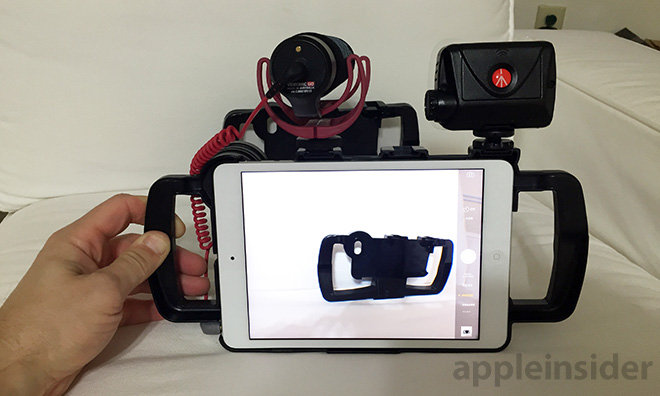 You wouldn't want to answer phone calls while the iOS device is in the iOgrapher, but you can in a pinch. It's also possible to charge the device and all ports and buttons are accessible.
What about lenses? After all, the lens is critical. We tried a number of lenses, from some old Cokin wide angle and telephotos, to a Neewer Macro and wide angle set, to a Polaroid wide-angle. The Cokin and Polaroid are natively 37mm thread, while the Neewer lenses we experimented with required a 37mm to 52mm step-up ring. In any case, we found we shot photos and videos most frequently using the wide-angle 0.43 or 0.45x wide angle.
It's worth noting a few things. First, you may have some difficulty with the threads the first time you use a lens. The brass is soft. Go slow, make sure the threads are lined up so as to not cross-thread, and then take the lens off and make sure to blow away any brass dust the first few times you use it.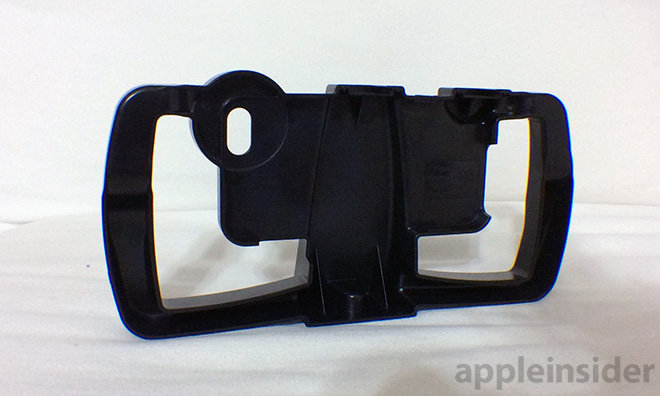 Also, when using an external microphone, whether the RØDE connected via the headphone jack, or a lightning-connected microphone, use Airplane mode. Any incoming notification sounds will cause a distorted noise to interrupt your recording.
Conclusion
We like the look of photos and videos shot while using lenses and other aftermarket attachments. We already know how to get the most out of the iPhone camera, using focus and exposure lock, or Hyperlapse to stabilize our shots. What we don't like quite as much is the feel of snapping our iPad mini into iOgrapher's frame. We understand why it's been constructed the way it has, but it's just not a comfortable feeling having to snap the device into and out of this grip.
We imagine if we were a school and these were institutionally owned iPads, buying several of these for class projects would make excellent sense. As our personal shooting device, we like the idea of being able to keep our case on our device and not having to constantly remove it.
iOgrapher is relatively cost-effective at about $50 to $65, depending on the model. Add in the cost of a wide angle lens, $19.95, and you've got enough to get started. The Manfrotto light sells for $79, whiel the RØDE mic sells for $99 and requires a $15 cable to interface with the iOS device.
For a total of around $280, you've got a lightweight little kit that helps milk much more out of the camera you already know how to use: your iOS device.
Score: 3.5 out of 5
Light, simple to use
Two to three accessory mounts
Highly portable
Feel taking iOS device in and out of case
Where to buy
The iOgrapher for iPhone 5/5s is priced at $49.95 from Amazon, while an iPad Air version comes in at $65. A model compatible with iPad mini/mini 2/mini 3 is also priced at $65, while a version fitting older iPad 2/3/4 hardware comes in at $69.95.