Samsung warns investors of first holiday quarter profit decline since 2011

AppleInsider may earn an affiliate commission on purchases made through links on our site.
Samsung Electronics has released "preliminary earnings guidance" for the December quarter, calling for revenues of around 52T KRW ($47B) and operating profits of about 5.2T KRW ($4.73B), a profit decline of 37 percent compared to the year-ago quarter — its first such decline for the holiday period since 2011.
Samsung's profits have been on the skids for five consecutive quarters. For the previous Q3 ending in September, the company reported a 60 percent overall drop in profits and an even larger 73.9 percent profit collapse within its Mobile division (which makes phones, tablets and PCs, making the group comparable to Apple's entire business).
The 37 percent decline for Q4 sounds like an improvement over the 60 percent drop in Q3, but Samsung's previous Q3 represented a record high for the firm. This year's Q4 is being compared to a year-ago quarter where the company's profits had already begun to unravel.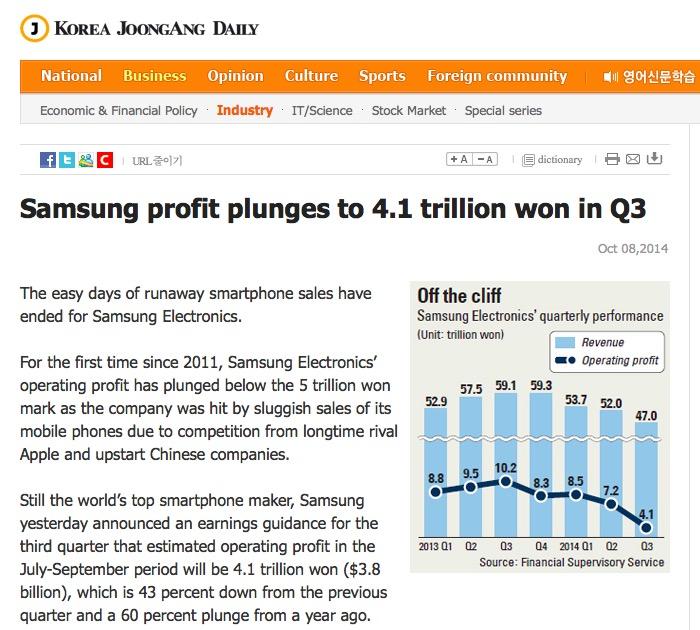 Mobile troubles appear central to Samsung's profit collapse
Samsung won't release its detailed earnings numbers for another two weeks, but the continued slide in the company's guidance estimate for overall earnings and profits again appears to center on weak sales of premium phones within its Mobile division.
A report by Se Young Lee of Reuters cited "several analysts" as stating that the company's semiconductor division had again earned more than its Mobile division in the quarter.
It also cited "a person with direct knowledge of the matter" as saying the company's component sales were "up across the board," lifted by strong demand for memory chips and display panels. That indicates that the brunt of Samsung's profit collapse came from continued lackluster performance in tablet and phone sales, particularly among the most profitable segment of premium devices.
Reuters cited Baik Jae-yer of Korea Investment Trust Management as stating, "It'd be hard to expect a sharp pickup in earnings from the mobile division in the absence of a hit product."
Samsung's implosion of its mobile business, due in large part to Apple's thorough domination of the premium phone markets with iPhone 6 and 6 Plus, is expected to continue as the company focuses on lower and middle tier phones that put it in direct competition with cutthroat competitors with razor thin margins all offering commodity devices largely running Android.
Last quarter, Samsung noted that its mobile sales were "driven by mid to low-end products." Between 2010— when Samsung first embarked upon a systematic effort to copy Apple's iPhone 3GS— and the end of 2013, the company grew to account for more than 50 percent of all sales of Android products and represented the vast majority of the profits generated by Android licensees.
Bloomberg noted that according to its analyst survey, Samsung's mobile division operating income appears to have fallen to 1.6T KRW ($1.5B) on sales of 27T KRW ($24.5B).
"That would be the unit's smallest quarterly profit in almost four years," the site observed.
Samsung's implosion a surprise to some
While Samsung's decline began a year ago, its sudden profit collapse wasn't predicted by journalists such as Daisuke Wakabayashi of the Wall Street Journal, who had instead helped maintain "a story line" that Apple's "formidable growth had petered out and Samsung Electronics Co. was eating its lunch."
In part, that was because Samsung's co chief executive J.K. Shin misled Wall Street Journal reporters into believing that the company's Galaxy S5 flagship had been "outpacing the performance of its previous model by 10%" last March. Six months later, the same paper acknowledged that the Galaxy S5 had actually been a dud, selling 40 percent fewer units in its launch quarter despite the company's operational mistake of building 20 percent more of the model.
That resulted in a glut of inventory Samsung has been trying to liquidate throughout the year, building up to a spectacularly bad Q3. Overall, Samsung is expected to report full year, overall profits of 25T KRW ($20B), a 32 percent decline over the 36.8T KRW ($30B) it earned in 2013.