Samsung suffered a 73.9% drop in Q3 mobile profits while Apple's rose 11.3 percent

Samsung Electronics reported overall Q3 operating profits of 4.06 trillion won ($3.8 billion)— a 60 percent year-over-year drop— while its Mobile division suffered a 73.9 percent drop in profits.
Apple's overall operating profits for the quarter were $11.2 billion, up 11.3 percent over the year ago quarter. That means Samsung is now earning about one third of Apple's profits while still shipping over twice as many phones. Samsung is now earning about one third of Apple's profits while still shipping over twice as many phones
Samsung reported that while its overall sales were down 19.7 percent over the year ago quarter, its mobile revenues were down by 34 percent.
That's a critical problem for the company because most of its profits were coming from its IT & Mobile Communications (IM) group, which is roughly comparable to Apple's operations. Other divisions of Samsung Electronics include its CE group that sells TVs and appliances and its DS division that includes sales of display panels, semiconductors and memory components.
At the beginning of 2014, IM was contributing 70 percent of the company's profits, primarily from smartphone sales— specifically from sales of its higher end Galaxy S and Note devices.
Samsung notes a black hole in the Galaxy
The company's earnings release noted that within the IM group, "despite slight growth in shipments, earnings declined QoQ as ASP decreased due to weak smartphone product mix and sales decrease put pressure on the cost structure."
Samsung said its phone shipments in the quarter were "driven by mid to low-end products," adding that its Note 4 release only had "marginal increase" due to being released at the very end of the quarter.
Samsung stated that its tablet "shipments increased, led by expansion of new Tab S," but not enough to blunt the impact of low margin, middle tier phones. Samsung's tablet business is also not very profitable.
Looking forward to the winter quarter, the company said to "expect demand for smartphone and tablet to increase under year-end seasonality while competition among set makers to intensify."
Samsung also reported a 93.9 percent drop in profits from its display panel business, which it said was "due to weak OLED shipments despite strong LCD sales."
Samsung's lowest profits since 2011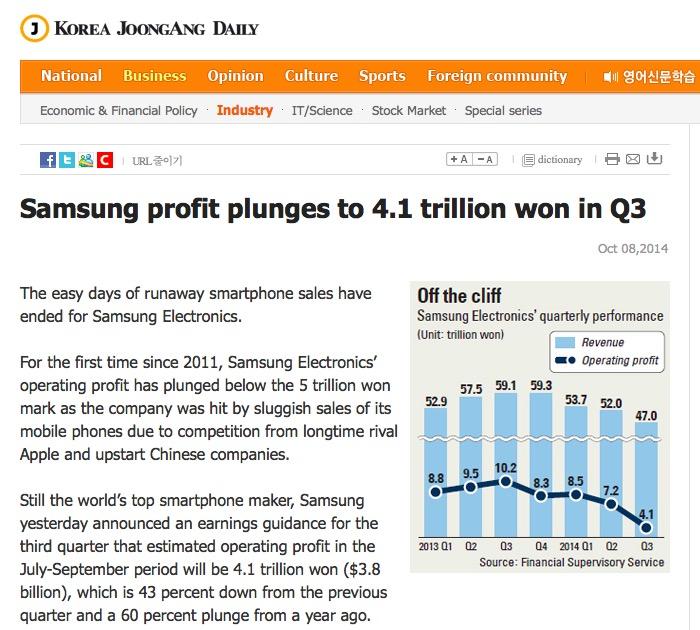 A report by Korea JoongAng Daily noted that the quarter was the first where Samsung had earned less than 5 trillion won since Q3 2011.
Samsung's overall profit margin bottomed out at 8.72 percent, "which is the first time in three years that the ratio has fallen below the 10 percent mark," the paper stated.
The paper cited Lee Se-chul, an analyst at Woori Investment & Securities, as saying "Samsung's smartphone performance is declining, and as the market is entering a phase of maturity, it is not easy for the company to come up with products differentiated from others."
The report added, "analysts expect that the fourth quarter will not be a major improvement from the third quarter, with operating profits staying around the mid-4 trillion won range."