RBC raises Apple price target to $123, cites higher than expected iPhone 6 demand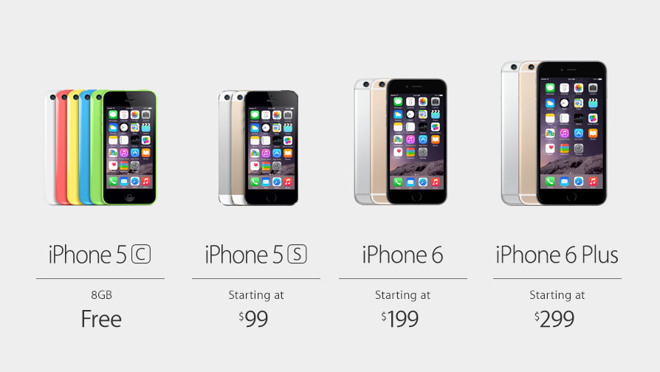 AppleInsider may earn an affiliate commission on purchases made through links on our site.
RBC Capital Markets on Friday advised investors to stay long on Apple stock, as the investment firm sees multiple catalysts for the company in the near future, starting with the reporting of holiday iPhone sales.
With Apple's December 2014 quarterly earnings report fast approaching, analyst Amit Daryanani issued a note to investors on Friday, a copy of which was provided to AppleInsider, in which he raised his AAPL price target to $123, up from $120. In particular, he has big expectations for the company's flagship iPhone 6 and iPhone 6 Plus lineup.
Daryanani believes Apple experienced higher than expected demand for its latest handsets in the December quarter. He pegged buy-side expectations at between 67 million and 68 million iPhones shipped in the holiday quarter, which would be a significant bump up from RBC's own forecast of 64 million units.
The analyst believes the vast majority of iPhones sold in the quarter — Â more than 80 percent — will be the new iPhone 6 and iPhone 6 Plus. He also expects the average selling price to be around $700, bolstered by increased storage options and the $100 premium carried by the iPhone 6 Plus.
Looking forward to the March quarter, Daryanani said that buy-side investors expect Apple to ship between 47 million and 50 million iPhones in the current frame. RBC's own estimates peg shipments at 50 million in the March quarter.
RBC's new $123 price target also reflects future catalysts like the growth of Apple Pay and the upcoming debut of the Apple Watch. Daryanani also noted Apple's typical annual capital reallocation efforts, which are likely to occur in March or April.
RBC has also advised investors of an "upside scenario" for AAPL stock, where it sees shares propelling to $135. Shares of Apple opened at $106.82 on Friday, suffering losses this week after the stock was downgraded by a high-profile Japanese bank.