Apple plans $5 billion bond offering to fund share buybacks, dividends [u]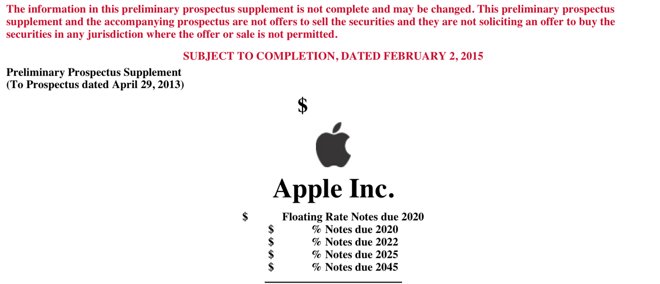 AppleInsider may earn an affiliate commission on purchases made through links on our site.
Apple on Monday disclosed to the U.S. Securities and Exchange Commission that it is gearing up to sell another $5 billion in debt through a new bond offering.
Update: The sale rose to $6.5 billion, with a 10-year round fetching 2.5 percent and a 30-year round bringing 3.5 percent.
Apple's impending bond sale was filed with the SEC, though rates and amounts listed in the document remain blank. However, the actual sale will be for $5 billion in new debt, according to the Associated Press.
As with past bond sales, it's likely that Apple will use the money to help fund its capital reinvestment program, which includes a quarterly dividend to shareholders, as well as a share buyback effort.
Apple's latest bond offering comes after the company disclosed it had a massive $178 billion in cash as of the end of the December quarter.
The bond sale will be handled by both Goldman, Sachs & Co. and Deutsche Bank Securities. The offering comes as the U.S. bond market is at multi-year lows, with the 30-year bond currently at a record low.
Apple issued a $17 billion six-part bond offering in 2013, which at the time was the largest ever for a U.S. corporate offering. The company then offered another $12 billion bond sale in 2014, before its first-ever bond offering in euros late last year.