Apple's World Travel Adapter Kit returns with Brazil socket support, lower price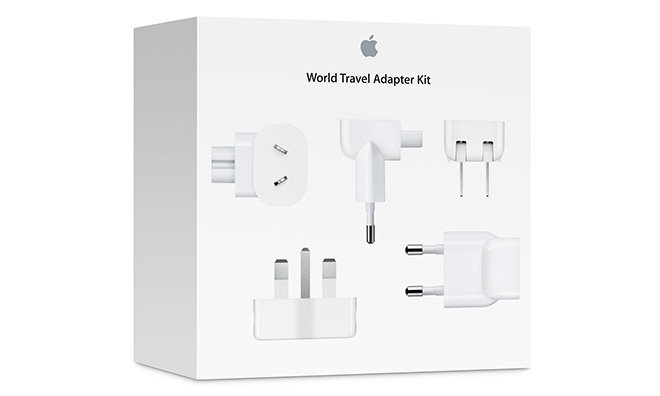 AppleInsider is supported by its audience and may earn commission as an Amazon Associate and affiliate partner on qualifying purchases. These affiliate partnerships do not influence our editorial content.
In a change to its online storefront on Monday, Apple introduced a revised World Travel Adapter Kit with a total of seven AC plug types and a reduced price of $29, as the package no longer includes a USB power adapter or cable.
The stripped-down set is a replacement for the legacy World Travel Adapter Kit, which came priced at $39 and included six AC plugs, a USB power adapter and USB-to-30-pin cable. Apple drew down sales of the legacy adapter package late last year, advertising Twelve South's PlugBug World Charger and Power Adapter as a suitable alternative.
With its new product version, Apple expands support to travelers visiting Brazil, a country predominantly outfitted with Type N electrical outlets. Support for North America, Japan, China, United Kingdom, Continental Europe, Korea, Australia and Hong Kong are carried over from the previous kit.
Apple notes the seven modular AC plugs cover the gamut in terms of compatibility and can be used with MagSafe and MagSafe 2 power adapters, 10 watt and 12 watt USB adapters and Portable Power Adapters. In addition, the kit is designed to work with iPod, iPhone and iPad, though users will have to supply their own 30-pin or Lightning cables.
The latest World Travel Adapter Kit is available now at most brick-and-mortar Apple Stores, as well as the company's online storefront, for $29. As the product is new, certain locations may not have supply on hand, but customers can check current stock levels via the Online Apple Store.