Apple's Tim Cook takes hardline stance against consumer data sharing, government snooping and terrorism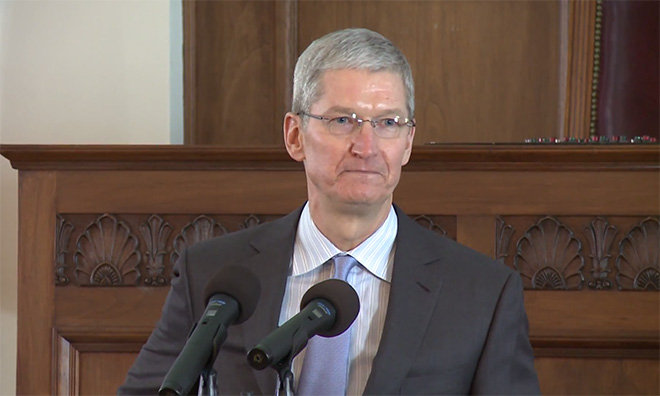 In an interview published on Friday, Apple CEO Tim Cook reaffirmed his commitment to customer data privacy, saying most consumers likely do not know how dire the situation is, but will be "very offended" when they find out.
Following comments regarding Apple Watch specifications and an upcoming Apple Store revamp, Cook spoke with the Telegraph in an extensive interview covering data privacy, government snooping, terrorism and more.
The Apple chief is cognizant of the amount of customer information being "trafficked around" by corporations, governments and other organizations, saying data sharing is a practice that goes against Apple's core philosophies. He said consumers, however, "don't fully understand what is going on" at present, but "one day they will, and will be very offended."
"None of us should accept that the government or a company or anybody should have access to all of our private information," Cook said. "This is a basic human right. We all have a right to privacy. We shouldn't give it up. We shouldn't give in to scare-mongering or to people who fundamentally don't understand the details."
"We all have a right to privacy. We shouldn't give it up. We shouldn't give in to scare-mongering or to people who fundamentally don't understand the details." - Apple CEO Tim Cook
The publication also asked about implications of terrorism, especially government surveillance operations created with the intent of aiding law enforcement agencies. Cook took a hard-nosed stance on the topic, saying the issue is a non-starter in his book because terrorists use proprietary encryption tools not under the control of U.S. or UK governments.
"Terrorists will encrypt. They know what to do," Cook said. "If we don't encrypt, the people we affect [by cracking down on privacy] are the good people. They are the 99.999 percent of people who are good." He added, "You don't want to eliminate everyone's privacy. If you do, you not only don't solve the terrorist issue but you also take away something that is a human right. The consequences of doing that are very significant."
In September, Apple laid out new guidelines for law enforcement data requests and in doing so noted that it is not technically capable of decrypting data stored on devices running iOS 8.
The company issues regular transparency reports regarding governmental data requests, and from January to June 2014 (PDF link) saw 0 to 249 U.S. national security orders to release personal account information. Law enforcement requests were much higher, however, at 789 affecting 1,739 accounts. Apple acquiesced and released "some information" in 77 percent of cases.
"We are not a treasure trove of data. It is a cop-out to say: choose between privacy or security. There is no reason why customers should have to select one. There is no reason not to have both," he said.
While Cook thinks terrorism shouldn't be a catalyst for change in the data privacy landscape, he has no qualms about speaking out against such violent intimidation tactics.
"Terrorism is horrible and must be stopped. All of us must do everything we can do to stop this craziness," he said. "These people shouldn't exist. They should be eliminated."
The executive reiterated Apple's mantra of making products, not marketing consumers as products. Every device and service that comes out of Cupertino is designed to store only a minimal amount of customer information, Cook said.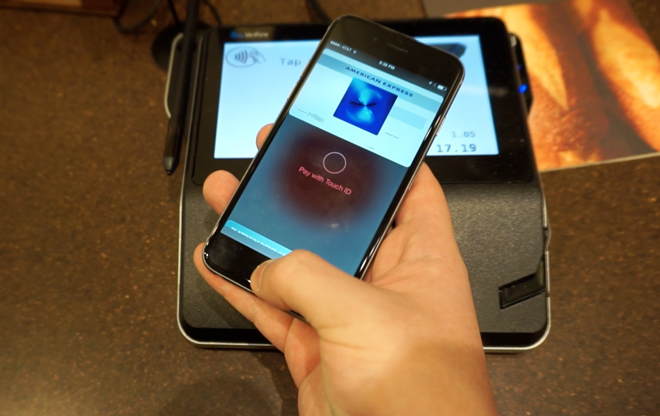 Finally, Cook talked about privacy as it applies to Apple Pay, the fledgling payments service Apple rolled out in October. Unlike other payments processors, Apple designed Apple Pay to reveal little to no information to outside parties, including itself.
"If you use your phone to buy something on Apple Pay, we don't want to know what you bought, how much you paid for it and where you bought it. That is between you, your bank and the merchant," Cook said. "Could we make money from knowing about this? Of course. Do you want us to do that that? No. Would it be in our value system to do that? No. We've designed [Apple Pay] to be private and for it to be secure."
The full story as reported by The Telegraph includes additional detail and a few more choice quotes.