Smartphone shipments topped 1.2 billion in 2014, Samsung's share plummeted in face of Apple gains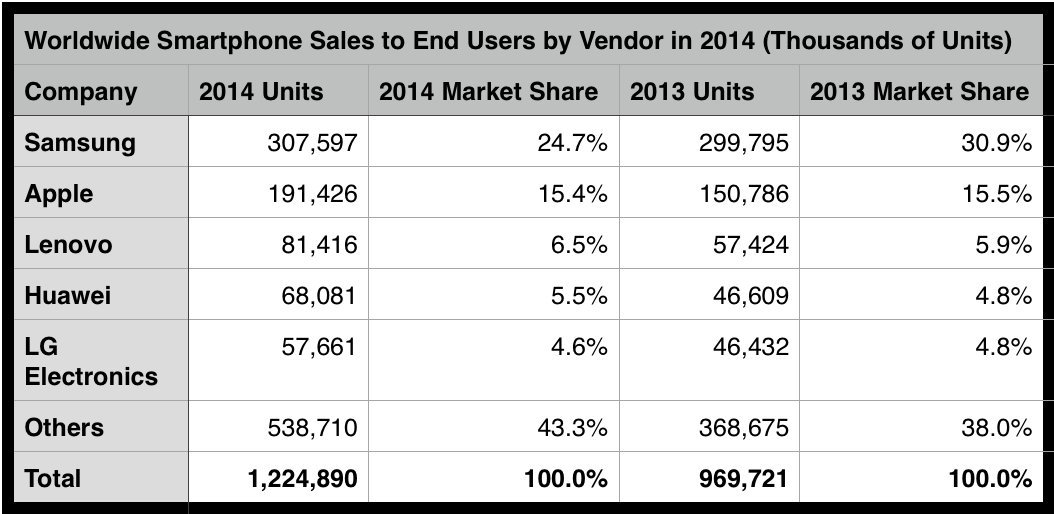 Squeezed at the high-end of the market by Apple, and also at the low-end by cheaper Chinese alternatives, Samsung saw its share of the total smartphone market shrink in 2014, even as overall smartphone shipments grew to new heights.
Samsung's share dropped from 30.9 percent of total smartphone shipments in 2013 to 24.7 percent in 2014, according to new data released by Gartner on Tuesday. Total unit sales for the South Korean electronics maker were up just 7 million, even as the total market grew by nearly 200 million units to 1.24 billion.
The greatest losses for Samsung came in the fourth quarter of 2014, when its market share plummeted 10 percent year over year in the face of Apple's iPhone 6 and iPhone 6 Plus. That marked the first time that Apple exceeded Samsung in terms of total smartphones shipped, with Apple's 74.8 million iPhone shipments eclipsing Samsung's 73 million smartphones.
Apple grew to a 20.4 percent share of the market in the fourth quarter, while Samsung fell to 19.9 percent.
Overall in 2014, Apple sold 191.4 million iPhones, an increase of more than 40 million from the year prior. Its total market share dipped slightly from 15.5 percent in 2013 to 15.4 percent in 2014.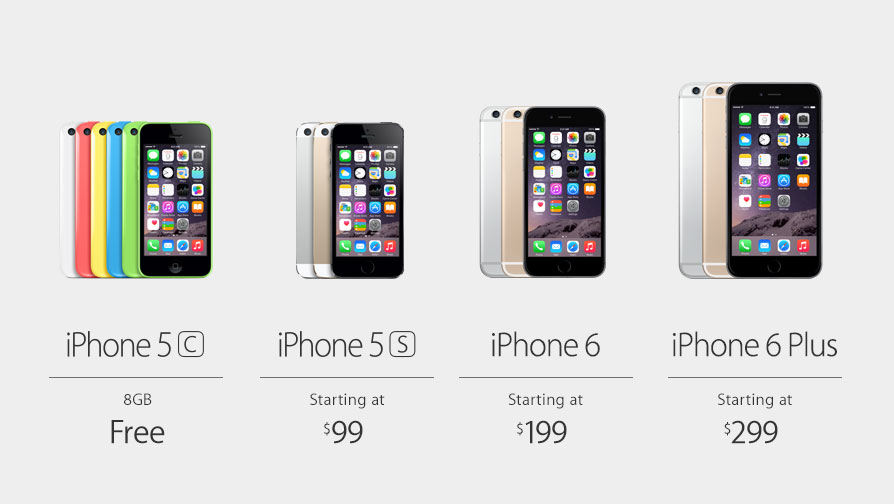 With the gap between Samsung and Apple rapidly closing, Samsung is hoping its new premium Galaxy S6 and Galaxy S6 Edge will be able to turn the tide. But critics have contended that the new S6 series closely resembles Apple's iPhone 6, once again drawing copycat accusations toward the South Korean company.
"Samsung continues to struggle to control its falling smartphone share, which was at its highest in the third quarter of 2013," said Anshul Gupta, principal research analyst at Gartner. "This downward trend shows that Samsung's share of profitable premium smartphone users has come under significant pressure."
In terms of operating system share, Android accounted for 80.7 percent of smartphones shipped in 2014, representing over a billion units. Apple's iOS, meanwhile, took a 15.4 percent share, leaving all other competitors with less than 4 percent of the market.