Apple adds 14 new merchants to Apple Pay website including Jamba Juice and Office Max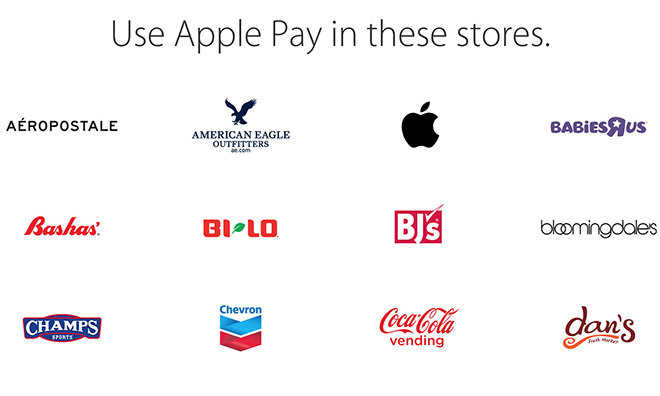 Following big MacBook and Apple Watch announcements at Monday's "Spring Forward" event, Apple updated its running list of merchants that support Apple Pay to include 14 new stores.
Apple quietly announced the new Apple Pay retail partners in a recent change to the payment service's informational webpage, which now lists a total of 61 supporting stores.
The updated list now includes Bashas', Coca-Cola Vending, Dan's Fresh Market, Dick's Fresh Market, Fudruckers, Jamba Juice, Jersey Mike's, JetBlue, Lin's Fresh Market, Maceys, Office Max, Pep Boys, Regal Cinemas and Walt Disney World. CEO Tim Cook highlighted Coca-Cola's vending machines during yesterday's event as a "cool and convenient" place to use Apple Pay. The beverage giant currently operates 40,000 Apple Pay-compatible machines and plans to bring that number to 100,000 by the end of 2015.
Apple also added L.L. Bean to the "coming soon" section, which still includes Acme, Albertsons, Anthropologie, Free People and Urban Outfitters.
The change also brought an expanded in-app buying section that highlights 29 apps like Postmates and Kickstarter, Starbucks, the latter of which was announced last month. Aside from NFC-based touchless transactions, the Apple Pay platform can be used for in-app purchases.
Apple Pay's footprint is slowly growing as companies continue to sign on to Apple's initiative. Most recently, Marriott and Etsy pledged support slated to see release later this year, while GameStop announced plans to roll out compatibility in stores starting this month. Apple is also working hard to grow Apple Pay and on Monday activated a FAQ page and dedicated support line intended to help independent merchants get started with the nascent payments service.