Next-gen Apple TV will not initially support 4K streaming, report says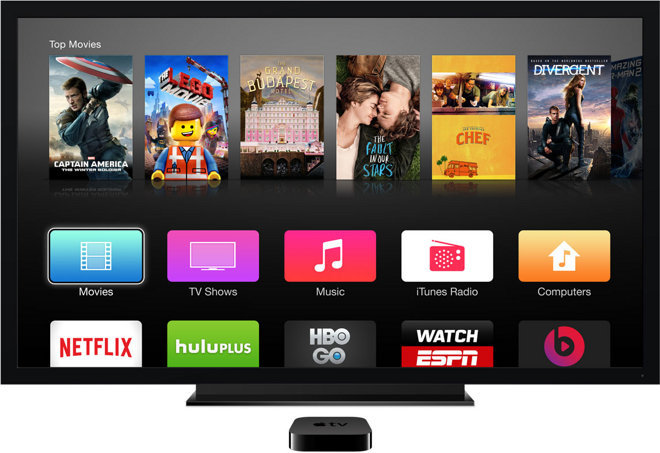 Industry watchers expect Apple to release a next-generation Apple TV set-top streamer later this year with a slew of upgrades, but the device might not support 4K high-definition content as some anticipated, according to a report published on Sunday.
Citing sources familiar with Apple's plans, BuzzFeed News reports the fourth-generation Apple TV will not support 4K content streaming at launch.
"4K is great, but it's still in its infancy," said an unnamed source.
In November, a report claimed Apple's latest A8 system-on-chip as found in the iPhone 6 and 6 Plus was capable of outputting 4K video. If Apple sticks with convention the chip will likely power a next-generation Apple TV, leading some to believe the set-top box would also offer 4K support.
With 4K video still very much a niche product, however, Apple's supposed decision to not include the tech makes sense. As seen with fledgling services from Netflix, Amazon and Sony, the amount of 4K content available can be considered limited at best. Further, only a handful of expensive televisions are capable of displaying ultra high-definition.
Cost is an issue for both consumers and content providers. As with any cutting edge technology, 4K has yet to benefit from serious industry competition and, with low uptake relative to vanilla high-definition hardware, does not enjoy attractive prices afforded by economies of scale.
On Apple's side, bandwidth support for 4K streaming would put tremendous strain on its existing content delivery network. Apple began migrating downloads to in-house infrastructure last July in preparation of iOS 8, but it is unclear if the network would be able to serve up 4K content. Consumer-grade broadband is also a problem, as many U.S. household connections simply can't handle speeds required for 4K streaming, the report said.
Today's report did not say when the next Apple TV is expected to drop, but BuzzFeed previously pegged a debut at WWDC in June. Apple recently slashed current model pricing to $69, signaling a successor is in the offing.
Related to Apple TV hardware are rumors suggesting Apple looking to launch an online TV service that would serve broadcast television content to Apple TV, iOS and Mac devices for a monthly fee. The company is reportedly negotiating with content providers and may mete out backend streaming responsibilities to third parties, possibly in cooperation with ISPs.