Apple to open second store in Hangzhou, China on April 24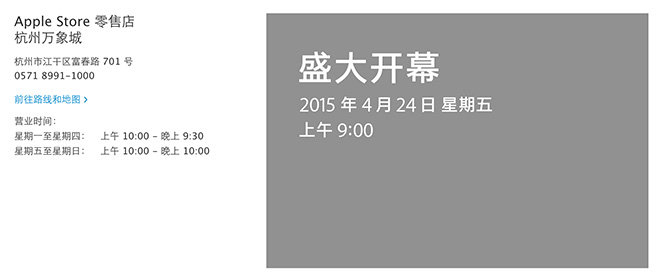 Apple on Tuesday announced the upcoming opening of a second store in Hangzhou, China, scheduled to start serving customers on April 24, the same day Apple Watch is slated to launch.
The Apple Store Vientiane City in Hangzhou is to be located in the MixC mall, where high end luxury brands like Fendi, Louis Vuitton, Prada and more cover five levels of shopping space, three basement levels and a penthouse restaurant floor.
According to Apple China's updated retail website, the grand opening will take place on April 24, the same day Apple Watch hits store shelves. China is among nine launch countries, including the Australia, Canada, France, Germany, Hong Kong, Japan, the U.S. and the UK.
Interestingly, the MixC location will open its doors exactly three months after the wraps came off another standalone store in the same city, a two-story structure that debuted to much fanfare.
Being in a shopping mall, the forthcoming outlet is not expected to boast architectural landmarks like other Apple Stores, such as Pudong and Chongqing's glass cylinder entryways. The usual amenities appear to be in place, however, with a Genius Bar and customer workshop area for One to One lessons accompanying the sales floor.
Apple has expressed interest in tripling its retail presence in China by mid-2016, meaning the company expects to field more than 40 outlets in the region. Most recently, an Apple Store location popped up in Chongqing, also in a MixC mall.
The Apple Store Vientiane City opens on April 24 and will operate Monday through Thursday from 10 a.m. to 9:30 p.m., and 10 a.m. to 10 p.m. on Saturday and Sunday.