Huge crowds gather for Apple Store grand opening in Hangzhou, China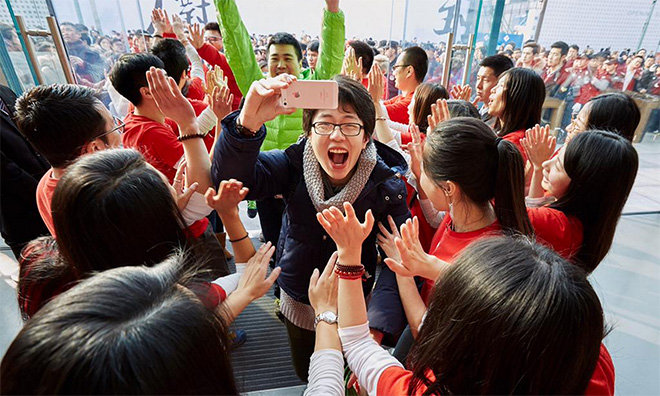 Apple opened the doors to its new West Lake Apple Store in China on Saturday, letting throngs of eager customers into one of the company's largest retail outlets in Asia.
As promised earlier this week, Apple officially started sales at the West Lake Apple Store in Hangzhou, the first of five Chinese outlets to slated to open ahead of the Chinese New Year on Feb. 19.
The grand opening was celebrated by Apple CEO Tim Cook, who posted a rare tweet to mark the occasion.
"Starting Something New in Hangzhou, China!" Cook's tweet read, followed by the hashtag #AppleStoreWestLake. Cook seldom uses his social networking account to promote newly opened Apple Stores, but the Hangzhou location is an important first step in extending the company's reach into mainland China.
Last week, Apple SVP of Retail Angela Ahrendts revealed plans to open five Chinese stores before the Chinese New Year, the first being West Lake. Ahrendts' announcement is in line with Apple's lofty goal of opening 25 retail locations in China by the end of 2016.
As for the West Lake location itself, the store comes with all the trappings befitting a flagship Apple Store, including a Genius Bar and floor space for workshops and One to One personal training. Lectures are scheduled to start tomorrow featuring lessons on iPhone, iPad, Mac and iMovie for OS X.
The building's design draws more than a little inspiration from the upcoming Union Square flagship in San Francisco, which also features a wide, open glass facade and a showroom floor split into two large levels.
Prior to Saturday's opening, Apple Store West Lake was covered by white protective barriers — with the store's illuminated Apple logo incorporated as part of the design — bearing the ancient Chinese poem "Praising West Lake in the Rain" as drawn by by noted calligrapher Wang Dongling, who was on hand for today's festivities.
On Friday, Apple posted to its official YouTube channel a translated version of the store's promotional video, which features Wang offering an explanation of the 2,000-year-old poem and how it applies to Apple's new home in Hangzhou.