Chassis allegedly for Apple's A8-powered 'iPad mini 4' shown in new pics, video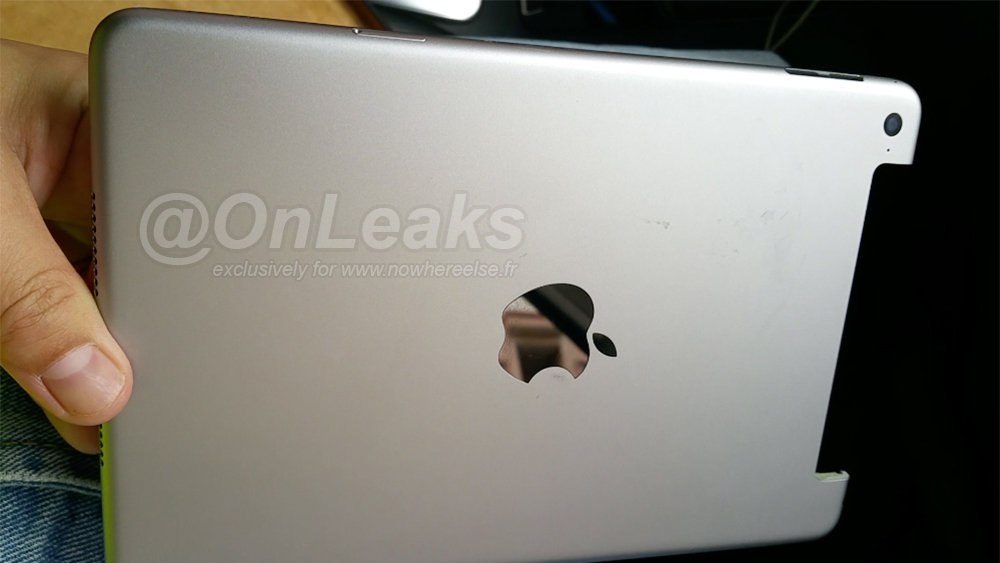 Amidst rumors suggesting Apple's underpowered iPad mini 3 will soon see an upgrade, a new video and accompanying images show off a chassis with minor design tweaks alleged to be coming in a fourth-generation model.
The "iPad mini 4" chassis shown by Nowhereelse.fr on Tuesday shows a removed orientation lock/mute switch from the right side of the device, above the volume buttons. In its place is a tiny microphone hole.
This design change only adds credibility to the legitimacy of the part, as Apple already made the same design change for last year's iPad Air 2.
The chassis features a cut-out at the top which is where an cellular LTE modem would go on a new model. On the bottom of the shell is a port for a Lightning connector, along with 10 holes on each side for stereo speakers.
Just last month, a report claimed that Apple would soon update its iPad mini to an A8 processor and 802.11ac Wi-Fi. Both of those were glaring omissions from last fall's refresh, which led to the device largely being viewed as a disappointment.
For the 2014 iPad mini 3 refresh, Apple kept the same design, hardware and components, and simply added a Touch ID fingerprint sensing home button. Priced at $400, it is otherwise identical to the Touch ID-less iPad mini 3, which is still still available for $299.
The iPad Air 2, meanwhile, was given a more substantial upgrade, most notably the A8X chip, which features an industry-leading 8-core graphics processor. The iPad Air 2 was also given a slightly thinner and lighter design from its predecessor.
If the iPad mini does receive an upgrade in the near future, it would be a somewhat unexpected, out-of-cycle refresh for the 7.9-inch device. Historically Apple has updated its iPad lineup once per year, though the mid-cycle fourth-generation iPad with Retina display was also released a few months after the third-generation model.