Apple's Phil Schiller, Marc Newson appear in Milan for Apple Watch demo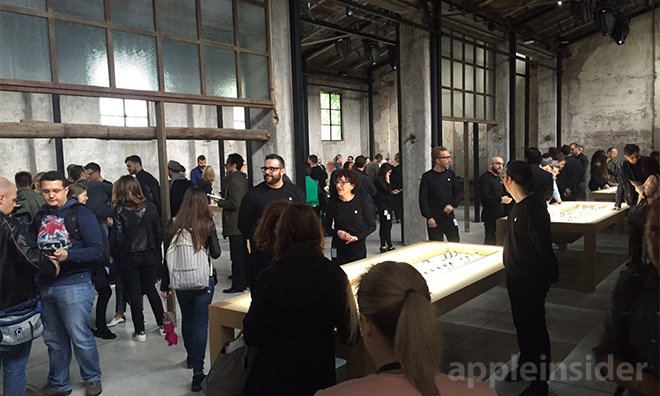 AppleInsider may earn an affiliate commission on purchases made through links on our site.
Apple marketing head Phil Schiller and designer Marc Newson made an appearance at today's viewing event for the Apple Watch at the Salone del Mobile, a furniture design fair currently underway in Milan, Italy.
As planned, the viewing took place at Carlo e Camilla in Segheria, an upscale restaurant, according to Macitynet.it. The different Watch ranges were displayed in glass-topped tables like those in Apple Stores. Visitors were also able to arrange for try-on sessions, again mimicking Apple retail.
AppleInsider was informed by reader Mark that Apple made a few modifications to the venue, repainting the outside wall and refinishing the floor just for today's event.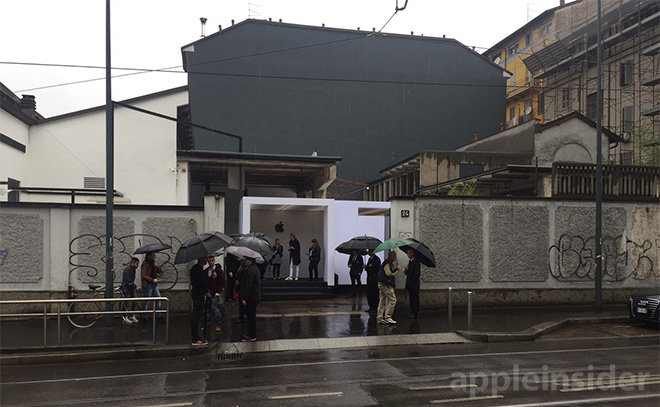 The event is a one-day-only affair, despite the Salone running from April 14 through the 19th. Apple's appearance is presumably another attempt at establishing the fashion credentials of the Watch, joining marketing efforts like magazine spreads and celebrity product placements.
Italy will miss out on the initial Apple Watch launch, taking place April 24. Only Australia, Canada, China, France, Germany, Hong Kong, Japan, the US, and the UK will get the device then, but Italy will likely be part of a second or third wave later this year.
Supplies of the Watch are expected to be tight for some time. Already most preorders are only expected to ship in June, which is also the earliest possible date for walk-in sales.