Apple Watch graces cover of Canada's 'Flare' in latest celebrity spread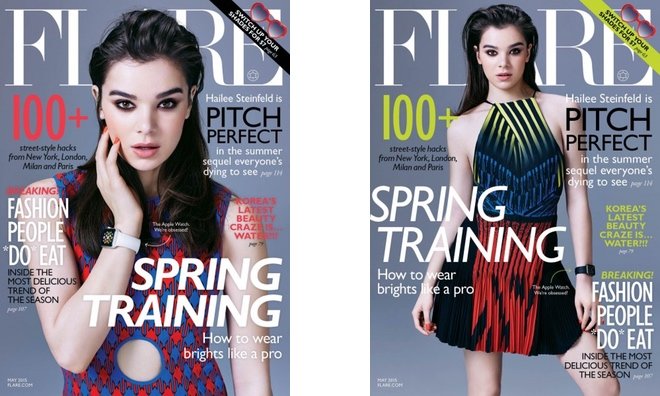 AppleInsider may earn an affiliate commission on purchases made through links on our site.
Academy Award nominated actress Hailee Steinfeld wears an Apple Watch Sport on the latest cover of popular Canadian fashion magazine Flare, in the latest cover story for Apple's soon-to-launch wearable.
On the cover of the magazine's May issue, Steinfeld can be seen wearing a Space Gray Apple Watch Sport with the Black Sport Band. In an alternate cover, the actress is wearing a stainless steel Apple Watch with a White Sport Band.
On both covers, the editors of Flare included a note saying they are "obsessed" with the upcoming device. And in an article detailing 15 things the Apple Watch can do, it's referred to as a "stylish timepiece."
The magazine praises the Apple Watch for being customizable and versatile, highlighting functions such as mobile boarding passes, the foreign language translation app Babel, the ability to control an Apple TV from the wrist, and unlocking a room door at Starwood Hotels.
Shown wearing the Apple Watch, Steinfeld stars in the upcoming film "Pitch Perfect 2." She was nominated for an Academy Award for Best Supporting Actress in 2011 for her portrayal of Mattie Ross in the Coen brothers film "True Grit."
Since its announcement, Apple has been positioning the Apple Watch as a fashion-focused device, getting it featured on the covers of numerous prominent fashion magazines. Previous covers include America's Self, the U.K.'s Style, Hong Kong's East Touch, and Australia's Elle, to name a few highlights from across the globe.