First look: Adobe Lightroom CC with HDR and panoramic photo merging, facial recognition, more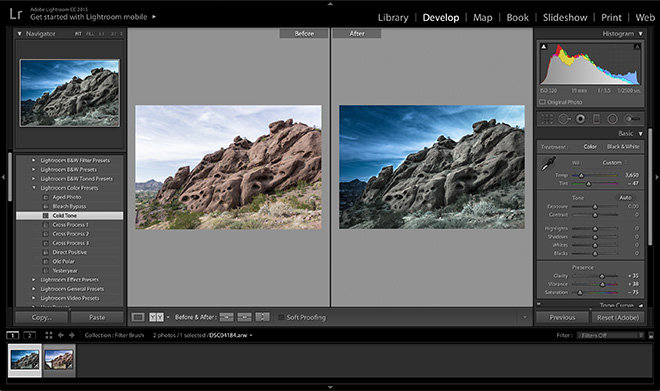 Adobe on Tuesday announced a major update to its Creative Cloud Photography suite with the launch of Lightroom CC, which boasts powerful enhancements like HDR and panorama photo merging, facial recognition and Filter Brushes, along with other improvements.
With a bevy of new features and true cross-platform compatibility, Adobe saw fit to tag "CC" branding onto the latest Lightroom version, meaning the app joins tentpole Creative Cloud imaging titles like Photoshop CC and Illustrator CC.
One of the most significant additions to Lightroom is photo merging with support for raw image handling. Using advanced algorithms, users can combine multiple photos taken with different exposure settings to create high dynamic range (HDR) tapestries. Images output as DNG files that can be further tweaked in Lightroom's Develop nondestructive editing module.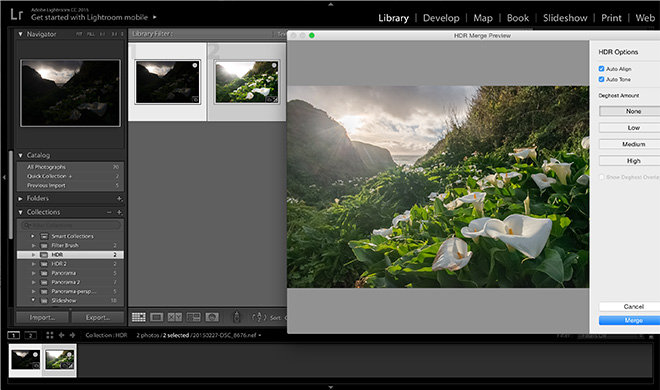 Merging also works to stitch multiple photos into a single panorama. As seen below, Lightroom CC intelligently built a panorama image from a series of five sample photos. The app offers spherical, cylindrical and perspective projection options, while an automatic cropping feature can be used to chop off unwanted white space.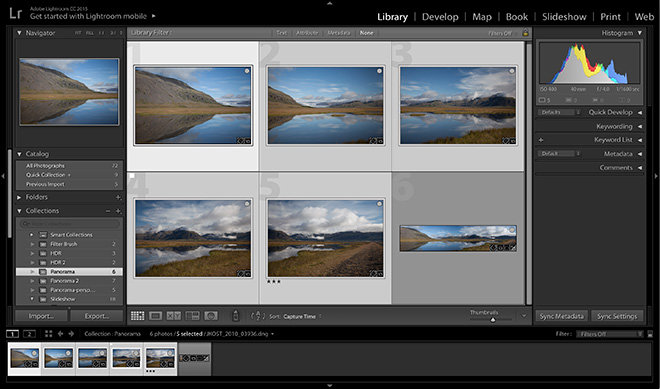 Also new is a facial recognition engine that can be accessed via a face icon located in the Toolbar. Clicking the button automatically weeds out faces from photos in a given collection and lets users assign each person a name. Named subjects are placed in a list, directly above candidates the app believes are visually similar.
Faces can also be manually tagged if Lightroom only finds partial matches, for example when a subject has their face turned away from the camera.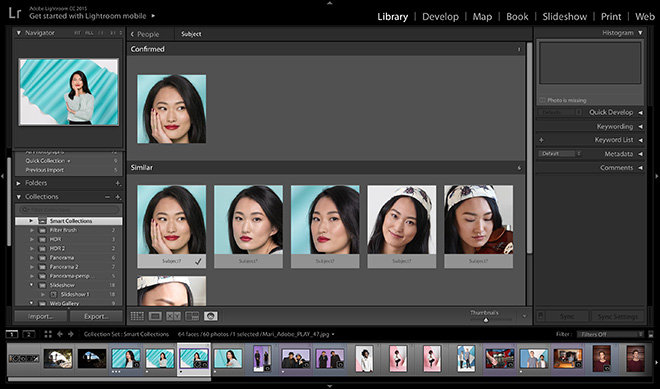 In practice, facial recognition works as advertised, easily picking out and determining people from a crowd. The technology is fairly powerful, finding facial landmarks through lens blur and low contrast photos. The feature is a fast and easy way to collate, manage and search through large photo libraries.
Finally, Lightroom CC folds in support for Filter Brushes, which are used to hand-shape graduated and radial gradients, either removing or adding the effect to photos before sending it off to Photoshop. Users can add or subtract filter effects using a paintbrush tool, quickly masking out areas for a custom look.
Like other Develop features, Filter Brushes are nondestructive, meaning changes are preserved and can be reversed or edited at a later time.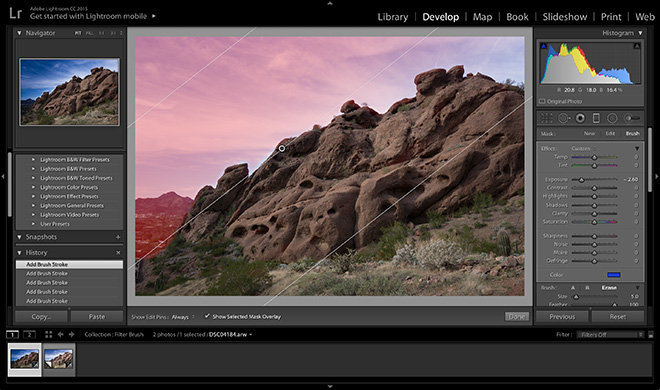 As with past editions, Lightroom CC comes with unparalleled cross-device photo syncing and management, a hallmark of Adobe's Creative Cloud platform. New photos can be imported via iOS device, Mac and the Web, with edits, flags and file management changes synced across all platforms.
Adobe's Lightroom app for iOS also got an update today, bringing new file organization options, copy and paste improvements, a presentation mode and improved cropping capabilities.
Additionally, Adobe Lightroom photos can be sent directly to apps like Slate for iPad or Voice. Alternatively, today's Mac update allows users to create rich slideshows directly from Lightroom itself.
Adobe Lightroom CC is available now as part of the Creative Cloud Photography suite, which comes as a $9.99 per month annual plan that also includes Photoshop CC and full feature access to various iOS apps. A number of other subscription options are available through Adobe's website.