Apple's iOS holds lead in enterprise for Q1 on strong iPhone 6 demand, but tablet share eroding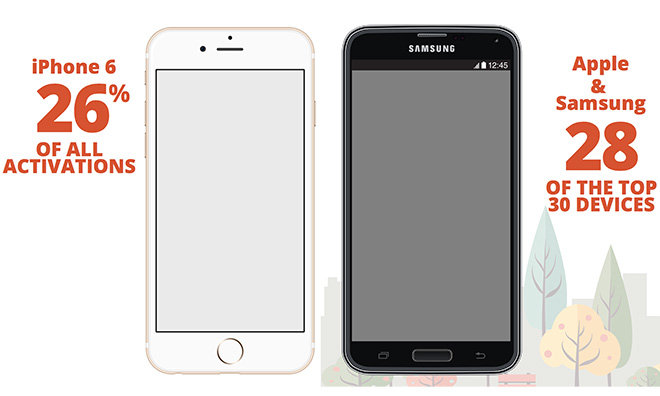 Riding a wave of record-breaking iPhone sales, Apple remained the market leader in enterprise mobile device activations for the first quarter of 2015, but competitors are slowly eating away at iPad's tablet share, according to Good Technology.
In its Mobility Index Report for the first quarter of 2015, enterprise mobility solutions firm Good Technology found Apple's iOS accounted for 72 percent of all mobile device activations, dropping a single point quarter-over-quarter to Google's Android. Since introducing big-screened iPhone 6 and 6 Plus models, Apple has commanded a 70 percent share of the market.
Building on a strong performance last quarter, Apple's iPhone 6 came in as the most popular enterprise device for the three-month period ending in March, notching 26 percent of all activations. For Android, Samsung's Galaxy S5 took the top spot.
Mirroring consumer trends, Apple and Samsung dominate the mobile market for enterprise solutions. Together, the two companies produced 28 of the top 30 devices tracked in Good's study.
Windows Phone activations held steady at one percent of all device activations. Tablets running Windows Pro helped net Windows one percent of the whole, marking the first time Microsoft's hybrid operating system made it into Good's Mobility Index Report.
Although iPad led the pack in tablets, Apple saw its share drop to 81 percent in the first quarter, down four percent sequentially. Over the past year, Android and Windows devices chipped away at iPad's position, which at one point accounted for 92 percent of the market.
Specifically, Android's share of the enterprise tablet market nearly doubled since early 2014 and now stands at 15 percent after a one-percent bump in quarter one. Microsoft's Surface lineup also sparked interest with certain industries, as Windows saw its share rise from one percent to four percent over the same period.
Good's data showed iOS outpacing Android in regulated industries for the second quarter in a row. According to the report, 80 percent of public sector activations and 76 percent of financial services activations went to iOS.
As expected, Apple's strongest industry was education. Schools have long turned to Mac, and more recently iOS, devices for their teaching needs, in no small part thanks to Apple's aggressive "iPad in education" marketing efforts.
For its most recent study, Good Technology aggregated activation data from its global customer base of more than 6,200 organizations spread across 189 countries. As Good does not have access to BlackBerry's wholly controlled Enterprise Server, results for BlackBerry products were not included in the report.