Roundup: The best third-party Apple Watch running apps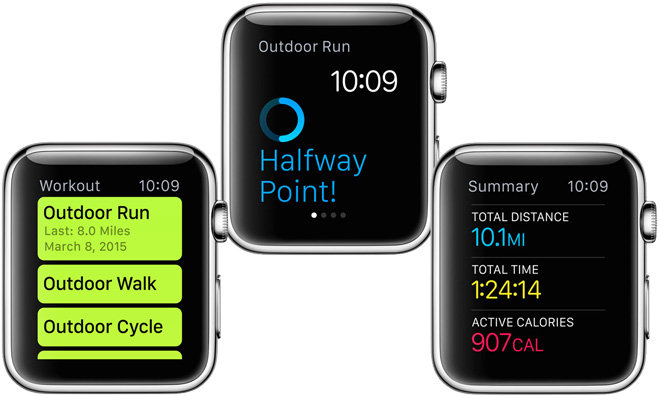 Fitness tracking is a core Apple Watch feature, and Apple builds in comprehensive app support with its Workout app, but owners may want to check out third-party running-centric options with extras like route creation, coaching and social network integration.
Since Apple currently does not allow developer access to Watch's heart rate sensor, its own Workout app is by default the most comprehensive for run analytics. Even without biometric monitoring, however, third-party apps offer Watch owners useful extras, especially for those already invested in existing fitness platforms like Nike+.
The following apps were tested paired with an iPhone for GPS and cellular data functionality.
Runtastic
Runtastic is one of the better third-party offerings as it includes deep remote control functions and quick access to critical run information like elapsed time, distance and pace measurements in an easy-to-read overview pane.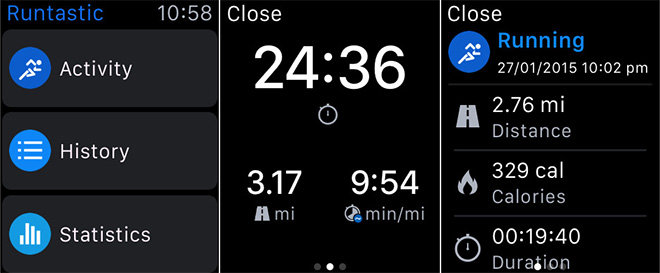 The main activities screen lets users select from a number of sports with options to toggle both GPS tracking and voice feedback (through iPhone or Bluetooth headset) on or off. Starting a session brings up three panes: a music control panel, the data-rich run overview, and a graphic readout of split mile times for pacing longer runs. The overview page can also be activated as a Glances pane.
While not as comprehensive as its iPhone counterpart, Runtastic for Apple Watch can display past run history with details including distance time, pacing, elevation, speed weather conditions, post-run mood and mile splits. Monthly performance is further broken down in a Statistics page.
The $4.99 "pro" app version removes in-app adds and unlocks a voice coach feature, community challenges, climate reports, route creation and syncing, geotagging for photos and more. integration with MyFitnessPal (which has its own Apple Watch app), manual post-workout mood tracking and more.
A number of in-app purchases are available for "story runs" and access to personalized training programs.
Nike+ Running
Featured on Apple's Watch minisite, Nike+ Running is one of the more polished non-Apple solutions, with solid run metrics and unique social features pulled from Nike's online community.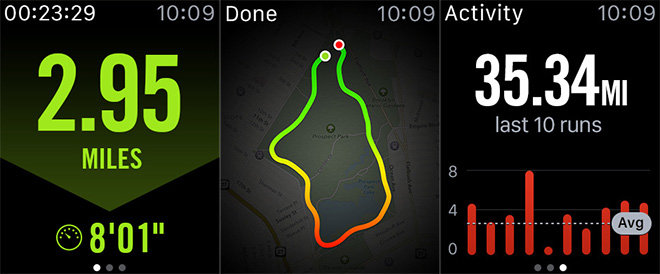 During a run, Nike+ Running uses its iPhone counterpart to feed Watch distance calculations and an in-app map for routing purposes. Pace and overall time metrics are also available at a glance.
Users can listen to music by adding tracks to the app's playlist on iPhone, a process also available on Watch via a Force Touch menu. A hard press can also be used to pause or end a run.
For detailed run statistics and access to music and voice coaching functions while on a run, it is recommended that users toggle the "Resume Previous Activity" option in the Apple Watch app for iPhone settings menu under General > Activate on Wrist Raise.
Data is offloaded from Watch to the main iPhone app and Nike's servers, or personalized coaching program if one is selected, as well as Apple's Health app via HealthKit. Post run, users can access leaderboards and previous session statistics directly on Watch, though not at the same level of detail found with Runtastic.
Strava Running and Cycling
Strava Running and Cycling's Watch app is fairly spartan in design as it offers only a few on-device tracking features, but runners may be drawn to the no-nonsense layout and snappy user interface. There are a few apps in this category, but Strava's offering stands out thanks to an iPhone version with deep social integration and comprehensive statistics tracking.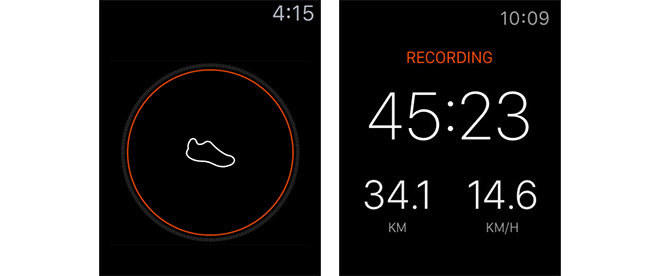 Strava's Watch app can be thought of as a one-way remote for the iPhone app, which touts detailed notes on workouts, run routes, split times and even data from other users. Tapping Watch's screen starts and pauses run tracking, while a status screen reads out elapsed time, distance traveled and pace stats.
A Force Touch menu option ends a run — or switches sports — to display a final tally of the metrics above. The finish screen also shows a line drawing representation of the completed route overlaid on a black background.
Syncing with the Strava iPhone app presents detailed information with complete time stats and a proper map view, though higher function features like calorie burn estimates and the app's "Suffer Score" are non existent unless a Bluetooth heart rate monitor was used to track the run. On the plus side, once the information is processed and stored, it can be uploaded to Strava's leaderboards for challenges and personal comparison.
It should be noted that syncing is a finicky process that only offloads data to iPhone when the app is running on both devices. Strava is working on a fix for this and other operational issues.
Apple's Workout app
Those who want the most accurate distance, pace and calorie burn estimates should use Apple's Workout app. Owners are urged to calibrate Watch by taking the device on a run outside with iPhone. The Workout app will draw on iPhone's GPS capabilities to set stride and pace settings on a per-user basis, making distance readings much more accurate.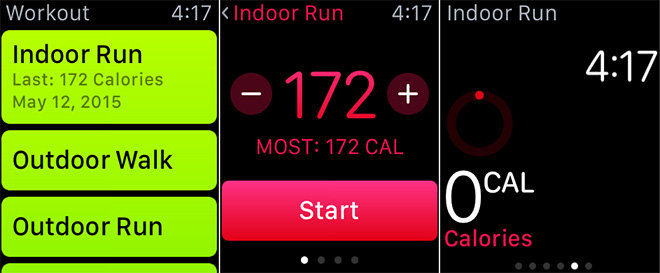 According to Apple it takes about 20 minutes of walking or running at a normal pace — during a single workout or accumulated over multiple runs — to effectively calibrate Watch. Based on this initial data, the device continues to calibrate its internal accelerometer over time. In our tests, out of the box Apple Watch distance estimations were wildly inaccurate for indoor running, but immediately lined up with treadmill readings after outdoor calibration.
Apple's included app offers much of the same run metrics as the third-party apps above, but is the only workout software for Watch with access to the device's heart rate sensor. Incorporating heart rate data opens the door to more accurate calorie burn estimations and continuous workout intensity monitoring. The app syncs all data with Apple's standalone Health and Activity apps for iPhone.
Currently, Apple's first-party Workout app is top dog for Watch owners who need accurate biometric measurements. Third-party titles like Runtastic bring a deeper set of features to the table, but until Apple opens access to Watch's heart rate sensor APIs, Workout will remain the most complete running app available.