Apple, Samsung tied for highest smartphone customer satisfaction, iPhone falls behind Galaxy Note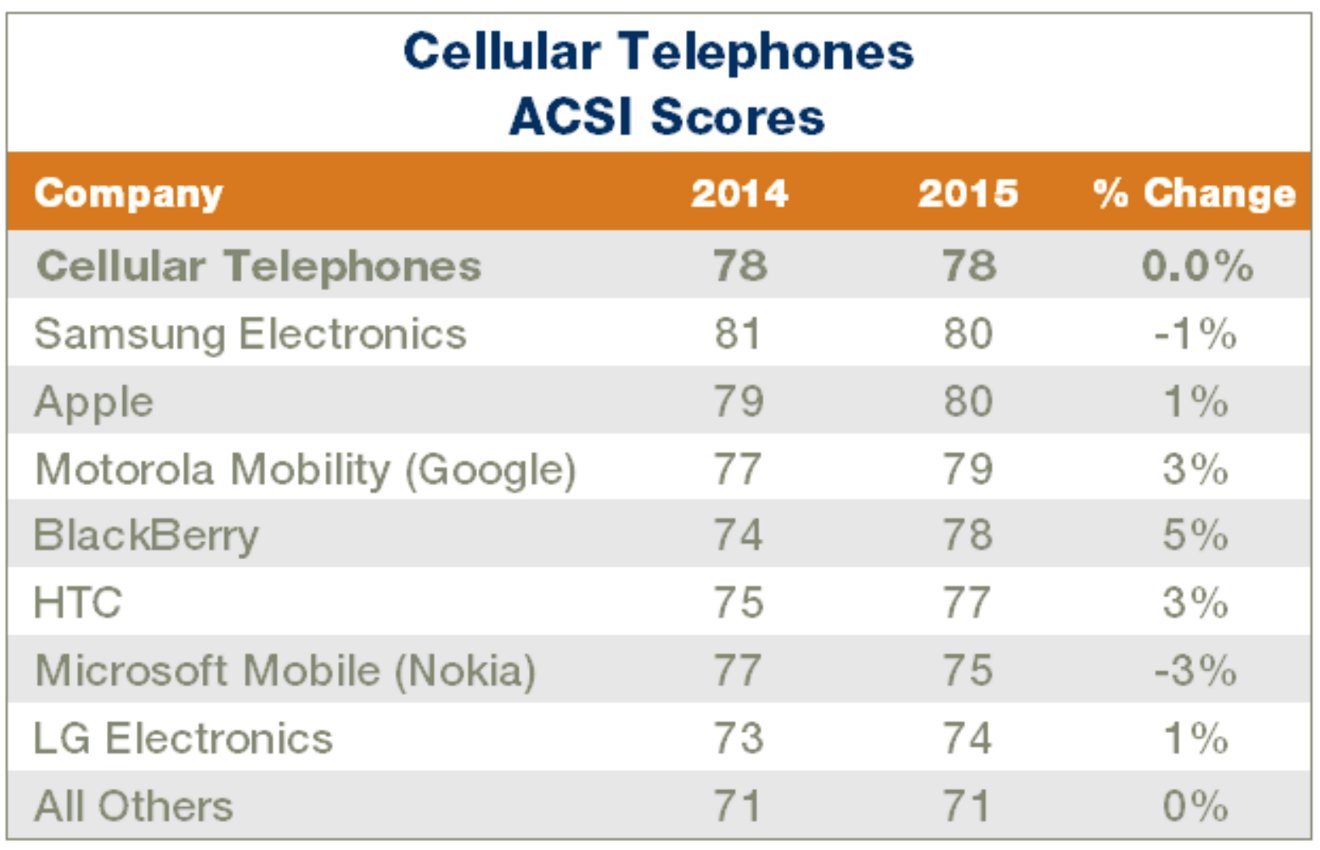 AppleInsider is supported by its audience and may earn commission as an Amazon Associate and affiliate partner on qualifying purchases. These affiliate partnerships do not influence our editorial content.
When it comes to smartphones, Apple and Samsung are in a neck-and-neck race for the overall customer satisfaction crown, though the South Korean giant has leapt ahead of Apple and the iPhone with its jumbo-sized Galaxy Note series.
Apple and Samsung both received overall customer satisfaction scores of 80 in the American Customer Satisfaction Index's annual Telecommunications and Information Report. Samsung is trending downward — Â losing 1 percent year-over-year — Â while Apple added 1 percent in the same time frame.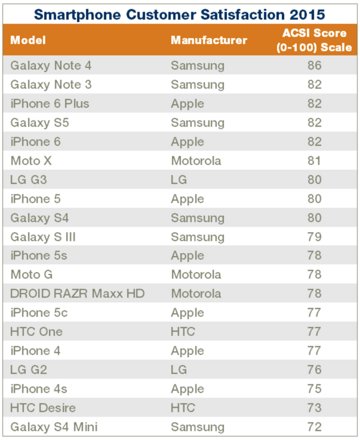 Motorola came in third at 79, while BlackBerry improved by 5 percent to post a surprising 4th-place finish.
When asked about their current smartphones, owners of Samsung's Galaxy Note 4 were the most satisfied, giving that handset an impressive score of 86. Apple's iPhone 6 and 6 Plus tied with the Galaxy Note 3 and Galaxy S5 for second place, with each garnering a score of 82.
"Apple's long-awaited and much-lauded redesign of its iconic iPhone may have set new records, but its newer models do not appear to have gained any advantage over Samsung's flagship smartphones when it comes to user satisfaction," the report reads.
Interestingly, Apple's iPhone 5 continues to outpace its successors — the iPhone 5s and 5c — Â in customer satisfaction. The iPhone 5 brought home a score of 80, compared to 78 for the 5s and 77 for the 5c.
The ACSI data is based on interviews with more than 14,000 randomly-chosen consumers in January and February of this year.