Apple to allow limited WWDC streaming at AltConf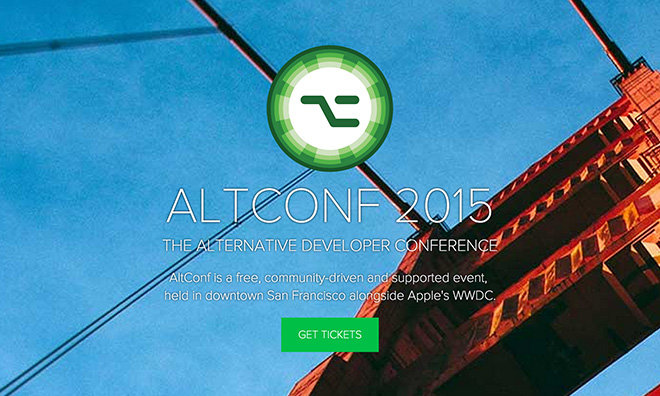 After threatening to pursue legal action against AltConf over plans to stream WWDC content at an unaffiliated conference, Apple on Friday agreed to grant limited access to keynote and Platforms State of the Union presentations.
According to AltConf, an outpouring of "support and passion" from the developer community over the past day has given Apple cause to reconsider a Wednesday decision that barred streaming access to the Worldwide Developers Conference.
As of today, the WWDC keynote and Platforms State of the Union sessions will both be aired live on Monday at AltConf's viewing room. Under terms agreed upon by both parties, all other WWDC sessions will not be made available for screening.
For the past few years, AltConf has held free WWDC viewing events for attendees alongside its own offering of speakers, developer videos, guest panels and more. Like WWDC, the conference is held in San Francisco and takes place during the same five-day span.
AltConf introduced a paid "Hero Supporter" ticket tier for 2015, causing confusion as to whether organizers were attempting to profit off WWDC's live stream.
AltConf was never charging for access to any Apple content, and this has been clear in our communications with Apple over the past weeks. AltConf is a community driven event and Paid Hero tickets were never meant as a ticket to cover the cost of the stream but to allow the community to show their support and offset the costs of renting the theatre.
Conference organizers note paid tickets only guarantee access to two speaking theaters under certain conditions, not areas showing streaming content.
Apple is offering its own keynote stream to Apple TV owners, iOS device users and through the Web, while developers can access live lab sessions by visiting Apple's Developer website. AppleInsider will offer live coverage of the event as it unfolds next week.