Apple opens up US Watch retail reservations, shoppers get unique bags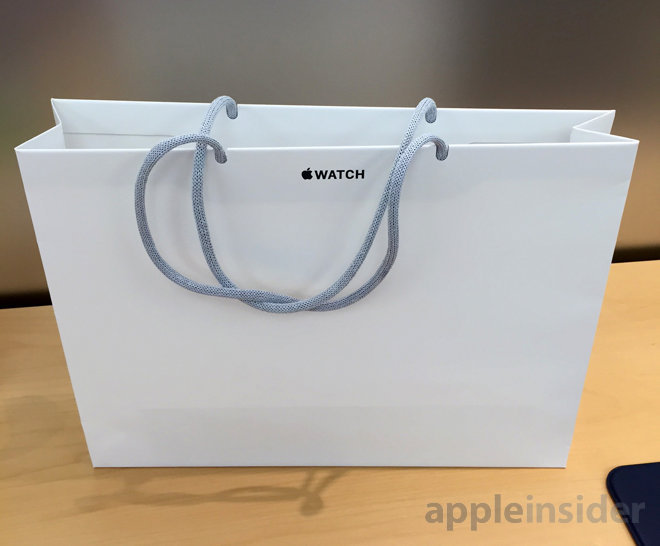 Apple on Wednesday morning opened up Apple Watch reservations in the United States, allowing shoppers to pick up an order at a time and Apple Store of their choosing, handed over in a specially-made bag.
Reservations will open at 8 a.m. local time every day, and can be found by picking a model online and then clicking a "check reservation availability" link. Supplies of the Watch may still be very limited, as even some popular models — such as the 42mm space-gray Sport — are unavailable at many locations.
Apple itself warns that due to demand, a selected model could be sold out before a person has time to confirm their reservation. Once at a store, a clerk will answer questions and offer a try-on session before completing any purchase. Shoppers must bring ID.
In-store reservations are opening up around the world. AppleInsider can confirm that when making a purchase, there are two styles of bag. Both are thick and white with gray rope handles, but Sport Watches come in an elongated one.
The Watch is officially slated to become available at Apple Stores on June 26, but the company now appears to be working on a accelerated timeline, suggesting that supply is catching up with demand.