Eminem's exclusive Beats 1 interview may signal patched-up relationship with Apple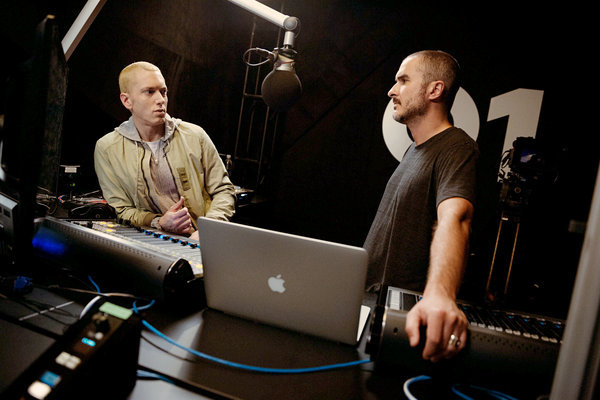 Eminem's interview with Beats 1 host Zane Lowe may reflect a long-term thawing of the rapper's relationship with Apple, which was once defined by legal battles that would influence how royalties are paid for music downloads.
Confrontations with Apple date back to 2004, when Eminem sued the company for using the song "Lose Yourself" in an iPod ad. The case would later be settled out of court.
In 2007, though, Eminem's music publisher and copyright manager — Eight Mile Style and Martin Affiliated — together filed another lawsuit, charging that Apple was selling Eminem's music without permission, since the companies had never authorized Universal Music to put his albums on iTunes. That case would be settled two years later.
Universal Music was separately brought to court by Eminem producers FBT Productions for how it paid out the royalties it was receiving from services like iTunes. Enimem's contracts at the time stipulated that he would get 50 percent of royalties for a license, and 12 percent for sales. FBT argued that Eminem's music was being licensed for downloads, and Universal eventually agreed to settle the dispute. Similar lawsuits would be launched on behalf of artists like Rob Zombie, Weird Al Yankovic, and Chuck D of Public Enemy.
Eminem's willingness to appear on Beats 1 is likely influenced as much or more by personal connections than the clearing of legal problems. Beats co-founder Dr. Dre is a close musical collaborator, and indeed Eminem is currently signed to Dre's Aftermath Entertainment label. Beats' other main co-founder — Jimmy Iovine — was, alongside Dr. Dre, instrumental in making Eminem a popular artist.
Beats 1 host Zane Lowe also previously interviewed Eminem in 2013, while the former was still with U.K. government broadcaster BBC Radio 1.
The rapper's appearance could also suggest that Eminem's music will be included in Apple Music when that service launches on June 30, but that is so far unannounced.