Promotional images suggest Apple's new iPod colors will launch July 14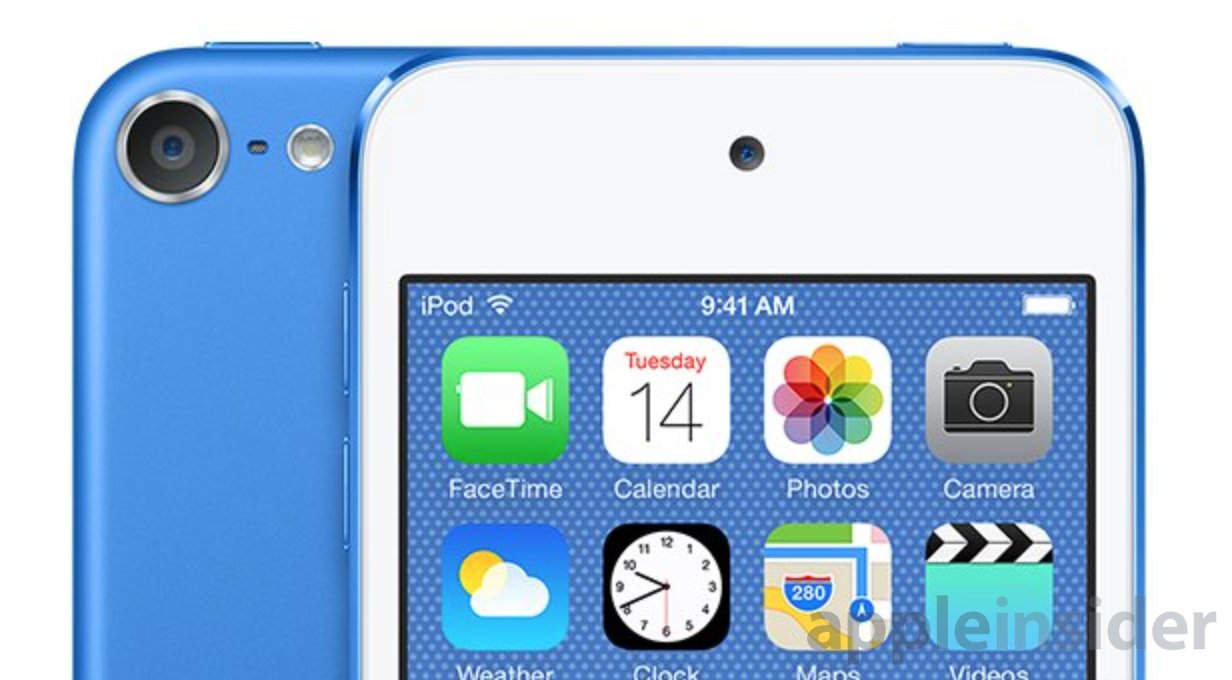 Apple's newly leaked iPod colors may arrive sooner than expected, on Tuesday, July 14, if the company's carefully designed marketing materials once again prove accurate.
The newly released iTunes 12.2 update includes a number of images of the iPod touch, iPod nano and iPod shuffle in a trio of new colors — a darker blue, a brighter pink, and a new gold color. But the images also include another strong hint at a release date, as the iPod touch calendar is set to Tuesday the 14th.
The 14th day of July also falls on a Tuesday this year — Â not likely a coincidence, based on Apple's well-established marketing strategies.
Take, for example, the Apple Watch. In all of its promotional images, it is shown with the date Monday the 9th. The Apple Watch event this year was held on Monday, March 9.
The same goes for the iPhone 6, which features a calendar set to Monday the 9th. The iPhone 6 event was held on Monday, Sept. 9, 2014. Apple's current iPod touch marketing also has the same Monday the 14th on its calendar, updated to reflect iOS 9.
AppleInsider exclusively reported in April that the iPod lineup would be updated this year.
Lending even more support to an impending launch for the new iPod touch colors is the fact that the iPod touch is shown running iOS 8. Specifically, the iPod touch features the iOS 8 Passbook and Newsstand branding and icons, which will be updated and renamed to Wallet and News, respectively, in iOS 9.
Currently in beta, iOS 9 is expected to launch to the public this September, which is usually when Apple updates its iPhone hardware. If Apple were holding new iPods for a September event, then the iPod touch would likely ship with iOS 9 instead of iOS 8.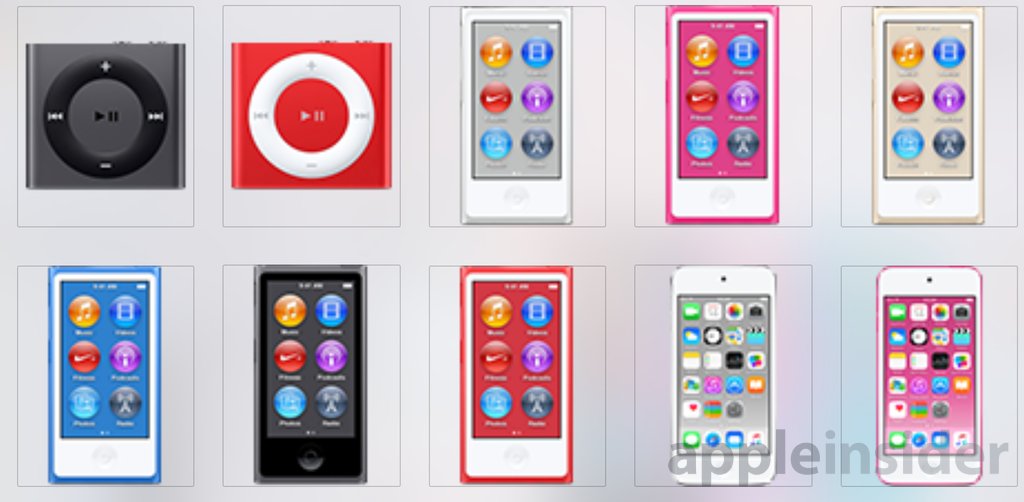 Of course, it's also possible that the new colors, the date and the operating system are all the result of a mockup mixup in Apple's marketing department. But given how carefully and deliberately Apple rolls out new products, that seems highly unlikely.
It's also worth noting that the iPod touch pictured does not feature a Touch ID sensor in the home button, which would also suggest that Apple Pay support will not be included in the new model.
As for the iPod nano, the images found in iTunes 12.2 appear to show the same iOS 6-inspired design, implying the diminutive touchscreen media player will not feature a software refresh.