Apple's Tim Cook, Eddy Cue meet with high power execs at Sun Valley retreat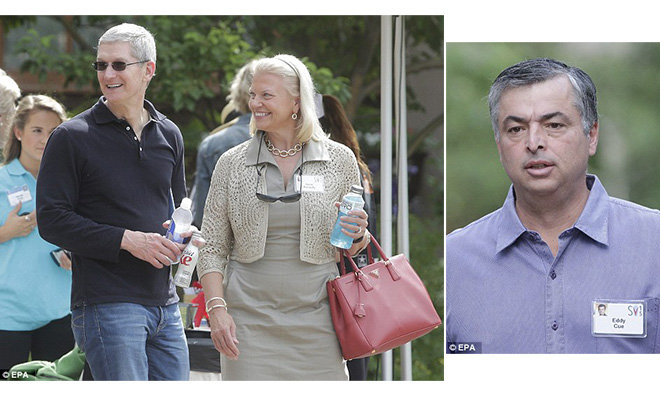 AppleInsider is supported by its audience and may earn commission as an Amazon Associate and affiliate partner on qualifying purchases. These affiliate partnerships do not influence our editorial content.
Apple CEO Tim Cook returned for his fourth Sun Valley conference in Idaho this week where he, along SVP of Internet Software and Services Eddy Cue, met with high-power executives from media, tech, politics and beyond.
Source: EPA via Daily Mail
As seen in an extensive photoset published by the Daily Mail on Thursday, Cook was spotted hobnobbing with the likes of Bill Gates, IBM chief Ginni Rometty, Pinterest's Ben Silbermann and others since the Sun Valley retreat started on Tuesday. The publication only managed to snap one picture of Cue, but that is to be expected given the event's strict policies against media coverage.
Hosted by investment firm Allen & Company each year, the Sun Valley confab attracts around 300 heavy hitters from a wide sampling of industries, though a good portion are tech sector bigwigs. Activities include lectures, panels and roundtables where industry moguls can discuss topics of the day, but the scene is best known for being a breeding ground for new deals, often struck behind closed doors.
During one brief encounter with Cook, reporters asked how he felt about Apple Watch, alluding to recent reports of stagnating sales. Cook declined to answer, instead giving a thumbs-up as he passed by. Cook is attending Sun Valley for the fourth time since his first being invited in 2011, while Cue is making his second appearance.
According to the publication, a spokesman for the U.S. Department of Defense confirmed Secretary of Defense Ashton Carter took part in a panel discussing "the importance of a strong partnership between private sector innovators and government" earlier today. The talk could be in relation to government surveillance programs and requests for access to data stored on or generated by consumer products, a topic that has created substantial friction between tech firms and law enforcement agencies.