Questionable report claims Apple Watch sales plummet from 200K units per day to less than 20K in US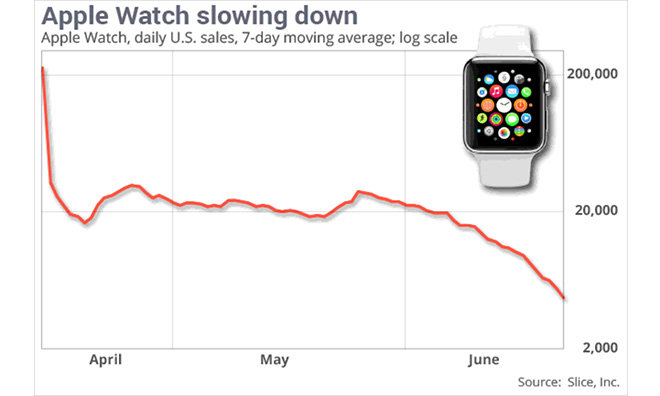 According to research firm Slice Intelligence, which has been closely following Apple Watch performance since the device launched in April, sales averages are taking a nose dive in the U.S. as availability increases, but the firm offers little data to support the provided numbers.
Slice's report, picked up by MarketWatch on Tuesday, shows domestic Apple Watch sales have declined 90 percent since device preorders went live on April 10. As with its last study on Apple Watch sales, however, Slice based its findings on "millions" of digital receipts sent out to customers via email, a metric that fails to account for demographic spread, sample viability and other factors that would yield accurate figures.
Specifically, Watch sales supposedly dropped to fewer than 20,000 units per day in June, with sluggish days returning numbers below 10,000 units. The statistics are a far cry from early April when Slice said nearly one million customers preordered Watch on its first day of availability. That number turned into 1.5 million units for launch week or 200,000 sales per day on a seven-day moving average, the firm's most recent report said.
On a per-model basis, the entry-level Apple Watch Sport is said to account for some two-thirds of all Watch sales, roughly equivalent to the 62-percent share Slice quoted in April. Stainless steel Apple Watch versions came in second, while Apple sold less than 2,000 Apple Watch Edition versions in the U.S., Slice said. While model spread mirrors findings from industry analysts like Morgan Stanley's Katy Huberty, the downward trend in demand does not.
Well-connected KGI analyst Ming-Chi Kuo, who is somewhat more conservative in his Watch forecast, expects sales to remain under 15 million through September, a goal unattainable by Slice's metrics unless international markets grossly outperform.
Apple Watch seemingly started out strong in April as initial supplies were quickly exhausted within minutes of preorders going live, pushing back shipping dates by months. Even today, certain Space Black stainless steel models are showing ship-by dates quoted up to two weeks out. Without insight into Apple's watch production capabilities, however, stock on hand is a poor indicator of actual sales performance.
Apple has yet to provide data on Watch sales, and it is unknown if the company plans to reveal details during its upcoming quarterly conference call later this month. Unless CEO Tim Cook or CFO Luca Maestri break out details from Apple's quarterly report, Apple Watch numbers will be lumped in with iPod, Apple TV and accessories in an accounting category designated "other."