iPod nano, iPod shuffle won't sync offline Apple Music tracks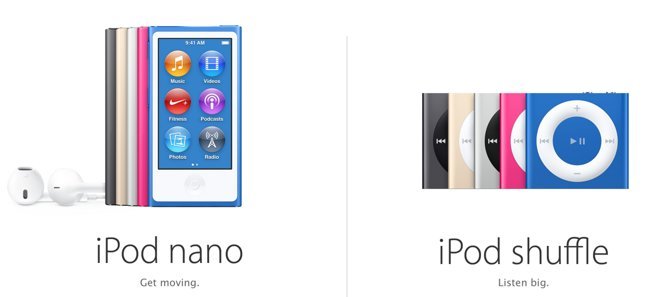 AppleInsider is supported by its audience and may earn commission as an Amazon Associate and affiliate partner on qualifying purchases. These affiliate partnerships do not influence our editorial content.
Even with Apple Music advertised prominently in the iPod section of Apple's online store, neither the iPod nano nor the iPod shuffle can sync Apple Music tracks cached offline, according to a report.
When users try to sync cached songs to one of the devices via iTunes, the software responds with an error message stating that "Apple Music songs cannot be copied to an iPod," iMore noted. Only tracks bought or imported through iTunes can be synced with the media players.
Apple hasn't explained the reasoning for the barrier, but it's presumably a form of copy protection, since in theory a person could sync music with a Nano or Shuffle, cancel Apple Music, and keep the tracks forever, so long as they don't sync with their iTunes library. Once an Apple Music subscription is canceled, DRM allows Apple to delete any cached tracks from iTunes or iOS.
The inability to sync cached files means that the Nano and Shuffle lack any kind of Apple Music support, since they have no way of getting online. Despite being classified as an iPod, the newly-refreshed iPod touch, which has Wi-Fi, supports all Apple Music features.
DRM has been a source of problems with Apple Music on other devices as well. Initially, people subscribed to both iTunes Match and Apple Music found that if they tried to re-download a matched track to iTunes, they would get a restricted Apple Music version, rather than the DRM-free copy Match entitled them to. The problem was fixed in iTunes 12.2.1.