At 97%, Apple Watch customer satisfaction outpaces original iPhone, iPad - report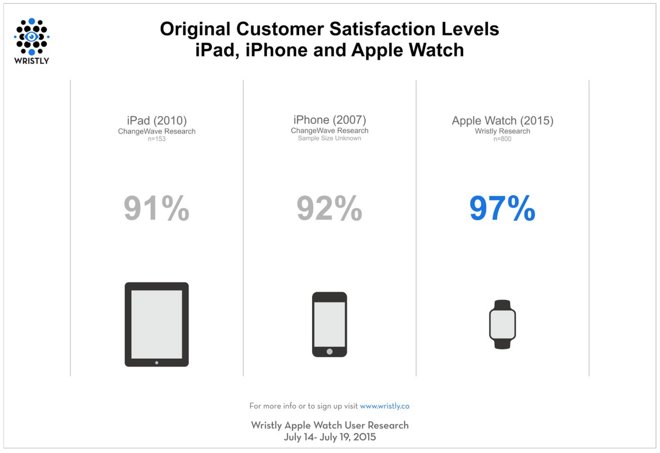 AppleInsider may earn an affiliate commission on purchases made through links on our site.
The vast majority of Apple Watch owners are very happy with the new wearable, survey data indicates, with overall customer satisfaction rising above the levels recorded for the iPhone and iPad at the same point in their lives.
Of the more than 800 Apple Watch owners surveyed by Wristly, 31 percent said they were "somewhat satisfied" while 66 percent were "very satisfied/delighted." In comparison, just 91 percent of iPad buyers and 92 percent of those who picked up first-generation iPhones were satisfied with their purchase.
Casual users seem to be the most at ease with the Apple Watch, as 73 percent of survey respondents who do not work in technology reported being "very satisfied." That number drops to 63 percent for so-called "tech insiders" and 43 percent for developers.
Most also believe the Watch to be a good value, with 73 percent saying that the device is worth what it costs. 14 percent think the Apple Watch is worth more, while 12 percent rated it a poor value.
Interestingly, Wristly says that its analysis indicated a gulf in perceived value between owners of the stainless steel Watch and the sport version, with stainless steel owners generally believing the device to be a better value.
Apple is expected to reveal some additional data about the Watch's first months during the company's Tuesday afternoon earnings call, but sales figures will not be broken out in detail. AppleInsider will have live coverage of the call beginning at 5 p.m. Eastern time.