Rumor: Apple considering becoming a carrier, leasing network from existing wireless providers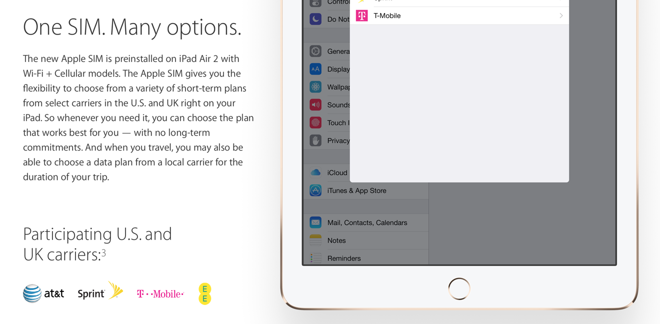 AppleInsider may earn an affiliate commission on purchases made through links on our site.
Apple is allegedly in talks with wireless providers in both the U.S. and Europe about launching its own cellular service, in the same way MetroPCS and Boost Mobile piggyback on established carrier networks.
Citing sources close to Apple, Business Insider reported on Monday that Apple is "privately trialling" a mobile virtual network operator, or MVNO, service in the U.S. It was said that Apple is looking long-term, and it doesn't plan to launch its own network within at least five years.
Any alleged interest by Apple in forming an MVNO would undoubtedly be met with resistance from carriers, who profit greatly from iPhone users and their heavy data consumption.
Apple explored that approach before it launched the first iPhone, as revealed by patent filings that described a system that would automatically switch between multiple wireless carriers. The original concept would have had Apple sell the first iPhone contract-free on its own roaming network.
One report alleged that late Apple cofounder Steve Jobs sought to build out an entire cell network dedicated to the first iPhone.
Any alleged interest by Apple in forming an MVNO would undoubtedly be met with resistance from carriers, however. And those same wireless providers would need to sell network capacity to Apple for its MVNO, essentially forfeiting their most profitable wireless subscribers to Apple-leased network space.
For that reason, it seems unlikely that carriers such as AT&T or Verizon in the U.S. would be willing to work with Apple and sell network capacity.
Repeated studies have shown that iPhone owners consume more data than any other smartphone user. That makes iPhone owners the most profitable subscribers for wireless carriers — almost certainly the type of customer that carriers would not want to hand over to an Apple MVNO.
Last year, Apple launched its own SIM card, limited to the iPad Air 2 with cellular connection. That alone was enough to upset Verizon, which refused to support the Apple SIM. As a result, Verizon customers in the U.S. must buy an LTE iPad from Apple, and then obtain a SIM card separately from Verizon.
AppleInsider's own sources said earlier this year that the company is considering shipping its anticipated "iPhone 6s" with the Apple SIM card. But that too would likely create concern amongst carriers around the world.
MVNOs lease their voice and data service from major carriers. That excess capacity is sold to smaller companies at a discounted rate, who then sell budget mobile plans to customers.
In 2012, CEO Tim Cook said Apple doesn't need to "own the pipe," referring to investment in carrier networks. He noted that Apple is focused on delivering quality devices and would rather leave network operations to its partners.
Google has already announced its own "Project Fi" mobile network plans earlier this year. Google's MVNO service is limited to the company's flagship Nexus 6 smartphone, and features a "pay what you use" data billing policy.