Stanford's ResearchKit-powered MyHeart Counts app goes international with UK, Hong Kong release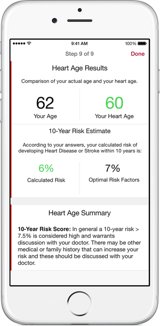 AppleInsider may earn an affiliate commission on purchases made through links on our site.
Apple's ResearchKit platform is now collecting medical study data outside the U.S. for the first time after Stanford's MyHeart Counts app — Â created in collaboration with England's University of Oxford — Â opened its doors to participants in the UK and Hong Kong.
Previously limited to residents of the U.S., MyHeart Counts marked its international debut with the addition of new personalized data-based feedback features that help participants understand what they can do to keep their heart healthy. The update was first noted by The Verge.
Over 41,000 people have signed up for the MyHeart Counts study since its debut, making it the most popular of the first round of ResearchKit apps. ResearchKit has been generally well-received by scientists, who credit it for making the process of enrolling new participants and collecting data far easier.
Residents of the U.S., UK, and Hong Kong who are interested in joining the Stanford/Oxford study can download version 1.5 of the MyHeart Counts app from the App Store now.